Overview
Rib Mountain (formerly Rib Hill) consists of an impressive ridge almost 4 miles in length that peaks at the summit of Rib Mountain (1924 ft above sea level). Rib Mountain is not the highest point above sea level in the state: that honor is due Timm's Hill (1952 ft above sea level). However Rib Mountain does stand higher above the surrounding terrain (670 ft) than any other hill in the state. In an interesting misinterpretation, a local guidebook once claimed that Rib Mountain "towers 2000 ft above Wausau" -- a statement that clearly confuses "elevation", or height above sea level, with "relief"!.
Rib Mountain is not volcanic in nature, as the shape of the terrain may
indicate from certain vantage points. The picture to the right shows Rib Mountain as viewed from five miles to the west. As you can see it appears to have the typical volcanic cone geography from certain angles. However, as local geologists like to point out, "Rib Mountain is not volcanic in any way, shape or form". In reality, Rib Mountain is a large block of Quartzite that has stood tall while the other sedimentary rock of the area has weathered away.
In the pursuit of
county highpointing
Rib Mountain is widely considered the hardest county (Marathon) highpoint in Wisconsin. While the scramble to the top of quartzite outcrop is probably only class 3 it certainly beats the socks off of walking through a muddy corn field.
Rib Mountain State Park also offers over 15 miles of trails. A trail map can be found
here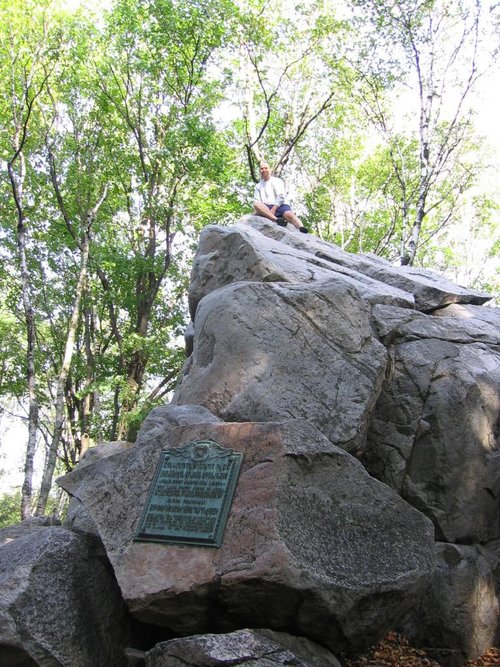 Getting There
Take exit 188 from US 51 for Rib Mountain State Park (not exit 190 for Rib Mountain Ski Area). Follow county road N to the west towards the state park. There is an admission
fee
for the park. Drive almost to the summit, which has a 60' observation tower, and the USGS BM nearby.
Red Tape
There is an entrance fee for Rib Mountain State park and a full rundown of the current fees can found
here
Camping
There are some wonderful camping spots located in the state park. More information can be found at the following link:
Camping fees at Rib Mountain State Park
External Links
Rib Mountain on wikipedia
Granite Peak, a local
ski area
is located on Rib Mountain
Rib Mountain State Park