Overview
Rocce Fourioun is a peak in the Monviso's Group, 3153 meter high, which ridge is 1 km long.
It lies on the border between Italy and France and between Monte Granero (to north) and Punta Venezia (to south).
To the north side there is the Colle delle Traversette and to the south side there is Coulour Bianco.
The top offers an awesome panoramic view of the Monviso's north face and of the Monviso's group (Visolotto, Punta Gastaldi, Punta Roma, Punta Venezia, Monte Granero).
The east face presents a vertical wall 400 m high. The west face is not so interesting, the rocks are not very solid.
The main route is on the north ridge: difficulty I - II.
Others interesting routes are:
north-east face: difficulty V
east face: difficulty V+
west face: difficulty I – II
south ridge: difficulty I – II
Getting There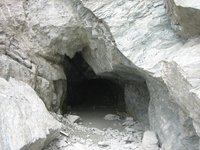 To get there you have to reach Pian del Re, the starting point for many interesting peaks in the Monviso's group.
By car to Saluzzo (56 km South from Torino) follow the "Valle Po" (Po Valley) indications till Crissolo, then Pian del Re (2020m); here there's the spring of the Po river, that is the longest Italian river.
Now, by foot, follow the trail to Buco di Viso/Colle delle Traversette. Buco di Viso is the first european tunnel, made in 1478 by Ludovico II of Marchesato of Saluzzo. By the tunnel you can go, still today, in France. This tunnel was used for commerce of salt between Italy and France!
From Colle delle Traversette (2.30 h from Pian del Re, 2950 m) you can follow the main route on the north ridge.
Red Tape
Winter closure of the Pian del Re road
When to climb
Generally it's possible to climb from June to September - October, depending on the presence of snow.
External Links