Overview
The Rock Rooms on Elk Mountain are not for the faint of heart, or the claustrophobic. This is a very neat route down through a part of the soutwest side of Elk Mountain, underneath giant boulders stacked on top of each other. Descending down into holes in between boulders, you will eventually come out on the side of the mountain looking down on the Charon's Garden Wilderness Trail. This is a technical and dangerous route, please do not attempt alone or with novice hikers. Knowledge of climbing and repelling is also very helpful. I would recommend a group of three or more.
You will need a climbing harness and rope, and a flashlight(it is completely dark in the lowest section of the Rock Rooms)- a headlamp would be best so that you can use both hands for maneuvering. You also will have to get your feet wet, so pack in an extra pair of socks & shoes for the hike back out to Sunset parking area. Normally the hike will take between 4 and 6 hours to complete.
Getting There
You will need to begin your journey at the Sunset parking area. From here, head up the Elk Mountain Trail. The Rock Rooms are on the southwest side of the mountain, but it is much easier to get up the mountain from the north. Follow the trail all the way to its end(if you try to turn off the trail early you will have to go through rough terrain and brush, and you will need to save your energy for the RRs later). When you reach the end of the Elk Mountain Trail, this is a good spot to stop and rest, or eat your lunch.
From here you will head northwest. You are looking for a long canyon that runs down the mountain in a southwest direction. As you hike northwest, you will see the canyon on your left-hand side. You can easily see the canyon marked on a topo map(you can pick up a good topo map of the park at the WMWR Visitor Center). Some descriptions tell you to look for a rock arch, but its important to remember that you will not see this arch until you're already on the other side of the canyon.
When you find it, you will turn and head down the canyon(southwest). As you travel down this canyon, look along the south wall for an indicator rock that rests just above the entrance to the Rock Rooms. Look as far down the canyon as you can see, before it drops off the side of the mountain. Just to the left, on the south wall of the canyon, you can see a tall slender boulder with a split or cleft at the top.
This is your rock. Just below it lies the entrance to the RR's. Make your way down to it, and there are two boulders kind of stacked on each other at 45 degree angles, making a triangle-shaped door. There is a small tree right in front of the door.
Upon entering, you will go down and to your right, at this point there is still plenty of light. Proceed through a maze of rocks and you will come to a spot where you climb back up and then to the left to find what I call the chain room. Inside this room, there are chains attatched to a rock wall, and under these chains is a 40' drop straight down. If you want to go all the way through the RR's, you must make the drop down to the bottom.
To get to the bottom, you will need at least one good rope. On our first journey through the RR's we only had a rope, but it is much safer and easier to take repelling gear to get down this hole. hook up to the chain and use ropes to go down.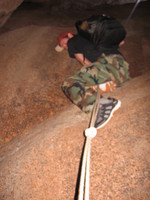 At this point, you are in the belly of the beast. Once you get your rope down, there is no turning back. You will then proceed downward, through holes you find under boulders. It gets very dark, you will have to use your flashlight. There are a couple more drops you may have to use ropes for again, but nothing like the drop in the chain room. The last drop you must maneuver through is about 10 or 12' down, with a pool of water at the bottom. Here is where you will inevitably get your feet wet. Once you drop down into the water, there is also a low boulder you have to go underneath. If it has rained recently, you might even get your pants wet, as you have to stoop down or crawl to get under this boulder.
Once you get through this obstacle, you will have light from above and will begin crawling back up instead of down. this is a very liberating feeling after having been in the dark underneath so much granite. Look for holes you can climb up and out of, I think there are about three small spaces you must crawl through to finally make it out.
When you get through this, you are looking down at the Charon's Garden Trail and you can see Post Oak Lake in the distance. Now is a good time to change into dry socks & shoes if you brought them. You must descend the rest of the mountain, and be careful! It is very steep.
One false step could put you in alot of trouble. Make your way down, and hook up to the trail. Go north through the Valley of the Boulders and the trail will take you back to the Sunset parking lot. Just be sure to give yourself plenty of time to complete the hike. It will take you between 4 and 6 hours, maybe even up to 7 if you like to stop and take pictures frequently. If you haven't been hiking in a while and are out of shape, this probably shouldn't be your first hike getting back into it.
Red Tape
This is located on the Wichita Mountains Wildlife Refuge, please respect all the rules and regulations of the park!
External Links
Add External Links text here.
style="display:block"
data-ad-format="autorelaxed"
data-ad-client="ca-pub-6523272176520096"
data-ad-slot="7132222476">