Overview
*** NOTE - This area was subject to a large burn in the summer of 2012, including the lakes basins surrounding this peak. I have not revisited since and cannot comment on conditions. ***
Ruffneck peak (or Roughneck peak) is an easy hike that serves as a nice introduction to the Salmon river / Frank Church wilderness area in central Idaho. The walk in is easy, wandering through an old burn area, some nice stands of alpine fur and several high lakes. At the top of the peak is a lookout that sees intermittent use.

The views from the top are impressive in all directions: to the north and west, the expanse of the Frank Church wilderness, to the east some of the higher Salmon river mountains, to the south are some impressive views of the Sawtooths, and on clear days the White Clouds, and Pioneers are visible. Primarily a warm weather use area, you can access it by snowmobile (on the road) and snowshoes or skis in the winter.


Getting There
On Idaho 21, approximately 20 miles west of Stanley, access the Seafoam road (FS 008). This road immediately forks. Take the right fork and then, when the road forks shortly afterward, take the lefthand fork. Follow this road for just less than 7 miles, until you reach the Langer trailhead. Follow this well-maintained and signed trail for about 5.5 miles until you reach the lookout.
Restriction issues
Although there is no red tape to access the area, if it is late in the season, check for fire restrictions, as there may be a ban in effect.
Camping & Fishing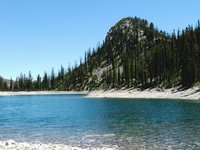 If you desire, this is great country for overnight backpacking. There are several lakes with good fishing in the area, and all have ample camping available. Use the time to explore the area. Most areas in this expanse do not see a lot of visits by humans, with the vast majority of visits by fishermen and packers. Off the main trails, you are unlikely to see other people.
External Links
The
Sawtooth webcam is a good visual resource for checking weather conditions in the area.
Tom Lopez's book,
Idaho, a Climbing Guide
is the most comprehensive guide to Idaho's mountains.