Overview
This page will always be a work in progress. However, I am taking the initiative to make an informative and quality page on one of the most rugged and challenging mountain ranges in the world.
Most places throughout the Saint Elias Mountains can only be accessed via a bush plane and they can usually take you up high on a glacier near your mountain of choice. There are however places where one can walk for tens of miles to approach climbs with air drops for food and gear.
The vast majority of people even in Canada and the United States will never even set eyes on these mountains. Your best chance to see them is by finding yourself on a boat in the fjords north of Juneau. Even then, you are one very lucky duck if you can actually see any mountains at all as they are nearly always plagued by some of the world's worst weather.
Large pacific storms routinely hit these mountains with very little warning as very strong low pressure systems come off the Gulf of Alaska at striking speeds. Within minutes, crystal clear views of these mountains will turn into sub-zero temperatures, hurricane force winds and complete whiteout conditions. It is imperative you are prepared for such weather when travelling in these mountains.
Many of the highest peaks in the Saint Elias Mountains are located along the Alaska/Yukon Territory border including Saint Elias, the second highest in the range. Further south, ironically named Mount Fairweather sits along the border of Alaska and British Columbia.
Mount Saint Elias is highly noted as it's the highest mountain so close to the ocean. Only 12 horizontal miles lead from the head of Taan fjord to the summit giving it an incredible amount of overall vertical relief. Denali and other Himalaya peaks don't quite have as much vertical relief despite being higher in elevation. If you choose to climb Saint Elias from tidewater, you have over 18,000 feet of ascending to do!
The Saint Elias Mountains
The Mountains
The Saint Elias Mountains are one of the most rugged and harsh mountain ranges in the world. They are part of the North American Pacific Coast ranges and are within the Wrnagell Saint Elias and Glacier Bay National Parks in Alaska, as well as the Kluane National Park in Canada's Yukon Territory. The highest peaks in the range are as follows following the 1500 foot prominence rule:
Mountain
Height
Location
Easiest Route
First Ascent
Notes
m
ft
Mount Logan
5,959
19,551
Yukon
The King Trench
June 23, 1925 under leadership of Albert McCarthy One of the greatest mountaineering achievements
Highest mountain in Canada
Mount Saint Elias
5,489
18,008
Alaska-Yukon
Southwest Ridge (Harvard Route)
July 31, 1897 under leadership of the Duke of Abruzzi
Second highest in both Canada and the United States
Mount Lucania
5,226
17,147
Yukon
1937 by Washburn and Bates
#3 in Canada
King Peak
5,173
16,971
Yukon
King Trench/North Face traverse/West Ridge
June 6, 1952 by Hart and Thayer
#4 in Canada
Mount Steele
5,073
16,644
Yukon
Southwest Ridge
1935 led by Walter Wood
#5 in Canada
Mount Bona
5,005
16,421
Alaska
East Ridge
July 2, 1930 by Allen Carpé, Terris Moore, and Andrew Taylor
#5 in the US; Highest volcano in the US
Mount Wood
4,842
15,885
Yukon
East Face
1941 by Walter Wood, Anderson Blakewell, and Albert Jackman
Mount Vancouver
4,812
15,787
Yukon
Northwest Ridge
1949 led by William Hainsworth
Mount Churchill
4,766
15,638
Alaska
South Ridge
August 20, 1951 by Gates and Lindberg
4th highest volcano in US
Mount Slaggard
4,742
15,557
Yukon
East Ridge
1959
Mount Macaulay
4,690
15,387
Yukon
Mount Fairweather
4,671
15,325
BC-Alaska
Southeast Ridge
June 8, 1931 by Allen Carpe and Terris Moore
#1 in BC
Mount Hubbard
4,577
15,015
Yukon
Cathedral Glacier
Summer 1951 led by Walter Wood
Mount Bear
4,520
14,831
Alaska
1951 by Alfred Baxter Jr, Rupert Gates, and Jon Lindbergh
Mount Walsh
4,507
14,787
Yukon
North Ridge
Bob Bates
Mount Alverstone
4,439
14,565
Alaska-Yukon
Cathedral Glacier
Summer 1951 led by Walter Wood
University Peak
4,410
14,470
Alaska
North Ridge
June 19, 1955 led by Kieth Hart
Named after the University of Alaska
McArthur Peak
4,389
14,400
Yukon
West Ridge
1961
Mount Augusta
4,289
14,070
Alaska-Yukon
West Ridge
1952 led by Peter Schoening
Mount Kennedy
4,238
13,905
Yukon
Cathedral Glacier/West Ridge
Spring 1965 by a team led by led by Jim Whittaker that included senator Robert Kennedy
Peak named after president John F Kennedy
Mount Strickland
4,260
13,976
Yukon
1959
Avalanche Peak
4,228
13,871
Yukon
1969
Mount Cook
4,196
13,766
Alaska-Yukon
1953 by Kelley, McGowan, Miller and Mohling


Many of these peaks have a considerable amount of satellite peaks however due to the massive nature of this mountain range, these are often disregarded as singular mountains. Often enough, prominence rules in these mountains are much higher than in places like Colorado, where 300 feet is often the prominence rule. Much of northern Canada follows a 500 meter prominence cutoff.

Climbing just one of these peaks will provide you with an experience that will travel with you throughout your entire life. It is clear to see the forefront runners in first ascents in this area. Some of the original Harvard Mountaineers club members including Henry Bradford Washburn and Bob Bates put of numerous of ascents in these mountains. Perhapd the most accomplished mountaineer in the Saint Elias Mountains is Walter Wood. Not only known for his series of Saint Elias first ascents but also for his glaciology research and work with the US military during World War Two. Wood carried colonel status in the US military. Keith Hart was also successful in garnering first ascents.

In more recent times, accomplished mountaineer and Colorado native Gerry Roach has led very successful expeditions into the Saint Elias Mountains.

Geology

Most of these mountains are non volcanic however, on the western margin parts of the range are, and two of the highest peaks are in fact stratovolcanoes. Mount Churchill and Mount Bona are volcanoes similar to Mount Rainier. Mount Bona is known as the highest volcano in the United States.

The Saint Elias Mountains are a result of large scale uplift caused by the North American plate riding over the subducting Pacific plate. The still active Fairweather fault to the west of the Saint Elias Mountains has been the plane up uplift for the last ten million years. Due to the cold and wet climate in the area, glaciers are fast to form and have done well to carve down and reverse vertical uplift, ever slowly eroding the mountains and carving out large valleys and ridges. Today, some of the largest glaciers in the world, particularly the Hubbard and Seward Glaciers. The Hubbard is the longest and largest alpine glacier (excluding Antarctica and Greenland) in the world at nearly 75 miles in length.

These mountains, together with the Wrangell Mountains form the Wrangell/Saint Elias National Park and Preserve in Alaska. This is the largest nationally set aside piece of land in the world. The eastern portion of the Saint Elias Mountains lie in the Yukon's Kluane National Park and Reserve.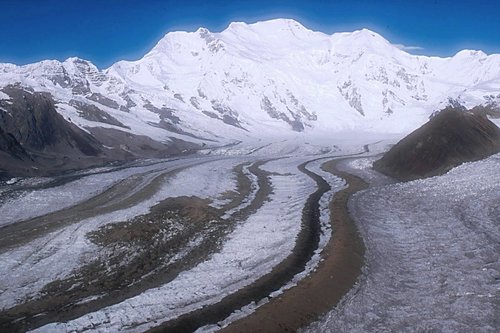 Photo Album
Below is likely one of the best photo collections of the Saint Elias Mountains. Not many people ever come here and the ones that do will find it very difficult to get high quality photos as camera equipment is heavy and doesn't usually bode well when it's very cold and windy. Despite this, great photos do exist and Summitpost has a great collection. Some of this collection can be seen below.






Some Climbing History
The first ascent of Saint Elias was made on July 31st 1897 led by the world renown Prince Luigi Amadeo di Savoia who was also the founder of today's standard route on K2. His party ascended the Abruzzi Ridge, a ridge dropping north off from the summit into the Yukon. This route is typically no longer used due to the large ice fall dangers.

The second successful summit attempt wasn't until 1946 when a team from the Harvard Mountaineering Club climbed the southwest ridge. They started from sea level at Icy Bay and it took them eight days to approach on the glacier that ends at Taan fjord. Three days afterwards they made the summit. This route is often considered the Harvard Route in their honor. Some of the members of this team went on to climb many more mountains in the area, including other first ascents.

The first ascent of Mt. Logan was a 65 day trek that involved walking cross country 120 miles from the town of McCarthy, where the train lines ended. On June 23, 1925, leader Albert H. MacCarthy, H.F. Lambart, Allen Carpé, W.W. Foster, N. Read and Andy Taylor summitted. The second ascent wasn't until 1957.




Colorado's own Gerry Roach made the summit of Saint Elias in May of 2000 to finish his North America highest 10 peak list. He ascended the south ridge.


Camping and Required Gear
The Wrangell Saint Elias National Park does not have any formal campgrounds or lodges within the park. Camping is usually all done in the back-country or along public lands along roads. There are however 13 restored mining/hunting cabins located within the park that can be used on a first come-first serve basis. The four villages near the park do offer bed and breakfast type lodging.

You will need to bring everything you need to survive in some of the world's harshest conditions if you decide to climb any of these mountains. If flying in to the heart of the mountains for a glacier drop-off, your guide may provide some of your gear and provide your food but you will absolutely need these things:

1. Sleeping bag rated at some very large number below zero...aka an expedition bag
2. Sleeping pad that will provide insulation from that ice and snow you will be sleeping on
3. Mountaineering boots that will keep your feet warm. Plastics will likely be required and MUST be crampon compatible
4. Expedition jacket with lots of Gore-Tex rain gear including heavy gloves, glacier glasses, wool socks (many pairs), and face protection.
5. Lots of mountaineering skill including ice climbing, glacier travelling, crevasse rescue, route-finding and ability to tolerate mother natures' worst crap!

If you are climbing without a guide, every person in your team will need access to this additional individual and team gear:

1. A very high quality 4 season tent
2. Cooking equipment with fuel that will work at high altitudes and cold temperatures
3. Ropes and harnesses
4. Good crampons designed for the hardest part of the route you choose
5. Climbing helmet
6. At least enough food to last you fifty percent longer than you expect to be on the mountain; ideally twice the food. You may be sitting in your tent for days during storms and simply keeping warm can take loads of energy.
7. Any climbing protection you may need including ice screws, pickets, or rock cams.
8. Knowledge on how to use all the above mentioned gear
When to climb
The Wrangell Saint Elias National Park is best visited from May through August. Not surprisingly, this is also the "least terrible" time to climb these mountains. As early as mid-September huge storms can dump feet of snow on the mountains and snow can and will fall any time of year.

Saint Elias sees over 100 feet of snow each year and during the summer months it is imperative that your team keeps an eye out for potential avalanche dangers. All this snow gets slightly softer during the summer and massive slides do occur. Other dangers include cornice failures and icefalls, which can prove disaster if your team is in the wrong place at the wrong time.
Red Tape
The Wrangell Saint Elias National Park has no entrance fee or gates and is open all year. This doesn't mean you can get to the park all year though. Winter usually renders all roads impassible and most air services shut down for the winter. It's always dark anyway.

That being said, despite the National Park status, there is no permit or official registration required however it is requested you check in with park rangers before and after your climb. Keep in mind this park has no search and rescue service. If you don't return, no one will come looking for you. You are truly on your own and will be relying on your team, your gear, and your own judgement.

Now if you plan on crossing over into Canada other rules do apply.
See the Kluane National Park site for details.

As always, LEAVE NO TRACE
Guides/Air service
There are a number of guide and air services available. A few of the more noteworthy ones follow.

Saint Elias Alpine Guides

Kennicott Wilderness Guides

Big list of other guides

Wrangell Mountain Air

Copper Valley Air

Other air services




External Links
For more information about climbing in the Saint Elias Mountains, see these links.

National Park Service

National Geographic

Trek Alaska

Detailed weather forecast

South Ridge Trip Report

Saint Elias skiing




Additional Information
I am trying to make this page as informative as possible. If you have any additional information to add don't hesitate to send me a PM








Saint Elias Mountains
Custom Object
48 Images
23 Comments
3 Mountains & Rocks
Geography
Nearby Custom Objects
Interactive Map
Custom Objects in United States, Canada
Alaska Coast Range Region

Custom Objects