Overview
A short and pleasant climb on obvious line to Abu Meyleh tower, next to Jabal Rum massif. Salim is a unique way to its summit. As the route goes on the north side of the tower it is shaded most of the day. At winter it might be very cold and windy. From top the magnificent kind opens on Rum village and Um Ishrin east walls. It is close to Rest House, ease and well protected - therefore it is an excellent choice for the rest day.
Getting There
Approach is 15 minutes walk from the entrance to the Rum village. From the entrance camping, head north-west and enter the siq between Abu Meyleh and Jabel Rum.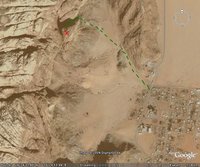 Route Description
4-/5+/5-/5
From the end of the route 20m to the right there is big boulder with descent belay. By two 45m rappels to the wide ledge and to walk south to the siq. Don't miss the second belay, which is a little right from the line of descent!
Essential Gear
Standard set of trad gear. 2x50m ropes for rappelling from the top.
External Links
Add External Links text here.