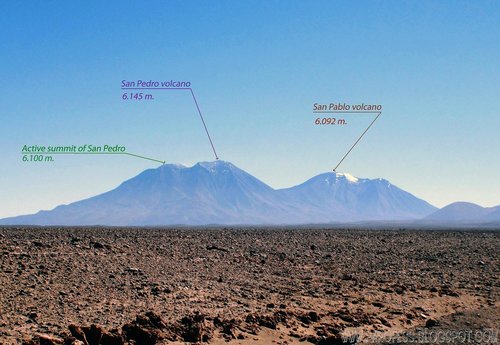 That volcano is as much forgotten as his brother San Pedro. Almost no one goes up there to climb this one. First of all because it is forbidden to climb it. Second because it's not a very popular destination among the climbers who chose the andes for some adventure. Relatively close to big cities like Calama or Antofagasta, it dominates the landscape from anywhere you look with his twin volcano San Pedro (a little bit higher). San Pablo has a brother called San Pedro. San Pedro has 6.145 meters high, confirmed by the project 6000 de Chile, financed by the Banco de Chile.
To see the website of the project, access here: LOS 6000 DE CHILE WEBSITE
It's not a technical mountain, just walk up. But the altitude itself is the bigger problem you have to overcome, since the summit is at 6.092m. Aldo, if you have a good time to acclimatize, i'm sure you won't have any problem. The volcano is quite different than his brother and has only one summit, non active. At its summit lies the steal box of Banco de Chile, inside you'll find the book for visitors to sign.
Getting There
You can get there from a lot of places
(but just like Aucanquilcha there's only one choice for vehicule: 4x4)
, specially San Pedro de Atacama (long 5 hours drive) or Calama, or Chuquicamata (the greatest mine hole at open sky in the planet).
There's also a small village nearby Chuquicamata called Chiu-Chiu, you can get some transport there and a great meal too.
Keep going on the international road which will pass right beside the famous little volcano Puruña (considered the smallest most active volcano at the planet), when you do that, you'll be right next to the old lava flows of San Pedro volcano.
When you reach one sign that says "km 72", go off the road to your right, follow the marks at the ground, you can't miss. Five minutes more you'll be at the Base Camp, with a good place surrounded by huge rocks. It is good for 6 or 7 tents tops, not that big. The altitude is 3.958m at BC.
Camp or bivy, in two days you'll be heading for the summit. No trail, but it is obvious, look up and go! Don't stop too much because at that altitude it is cold even at summer. I did it in the summer (march 2010) and i got -9°C and some winds, really close frostbite at two fingers. At winter it can get to -30°C.
At the summit, sign the visitors book and go back down as fast as you can. That's always the idea! Enjoy the great view and say good by to the volcano. He's active so at active volcanoes you can't just go for a walk, safety is the main issue here.
Routes:
First: Northwest ridge. The trail is visible from Portuzuelo going to the ridge at the left side of the volcano, very easy. But, it is a long, long walk. From portuzuelo to the summit, probably about 6 to 8 hours.

Second: Direct route by the west ridge. Faster and direct but dangerous route. Too many lose rocks, harder ground. But as a direct route, it is faster. From 4 to 6 hours to the summit. It looks like the route ends up to the line of rocks but it doesn't! There is a path to cross that rock line just bellow the summit, about 75 to 100 vertical meters. The crux if you will.

Camping
When you reach a sign that says "km 72", go off the road to your right, follow the marks at the ground, you can't miss. Five minutes more you'll be at the Base Camp, with a good place surrounded by huge rocks. It is good for 6 or 7 tents tops, not that big. The altitude is 3.958m at BC.
You might wanna sleep here for one night. Next morning go to the volcanoes, there's no trail, just go straight to them. At some point of the day you'll be tired, chose your place to sleep, but if you don't reach the rocky soil until you decide to camp, you won't be able to set up your tent. Too many rocks. I stoped at 4.480 m and my solution was easy: bivy. But a little farther, at around 4.900, you'll be at the rocky ground. It is good to camp anywhere with one problem, too much wind. Be careful.
If you camp there or just do a bivy at 4480m, next day you have to go all the way up to Portuzuelo, the place between the two volcanoes at 5.300m. To get there, you'll have to face the canaleta, volcanic lose rocks on a well marked way up, just after a huge rock that cracked in some huge peaces thousands of years ago, left turn. For that part you can see a trail but it is not man made, Guanacos walk a lot there and they left a good mark at the ground. Later, during the climbing for the summit, i realized that Portuzuelo is the gigantic crater of San Pablo voncano! Amazing!
Here's good to camp, just pic one spot and collect some rocks to protect yourself and your tent, because at that place the winds are unreal, it can get too 100km/h easily! I was lucky and there was not much winds but i limited myself to just a bivy again.
I left a bivy spot there ready next to a huge rock (about 3m wide, 1,5 m high), use it! :P
About the prohibition for the climb
If you ask for permit to climb, they won't let you. But the owner of the Banco de Chile is a famous chilean climber (with some 8000 peaks done btw) and it was his idea the project.
If you go, don't ask for the permit, just climb the volcano.
I know it is confusing but it is true.
I think i have to explain better so, to finish my explanation i have to say one more thing: The register book is not a government resolution, it is private. As i said, he own the Banco de Chile and it was kinda private project, with some good chilean climbers (i know three of them). Maybe it's because the neighbor volcano San Pedro is active and may erupt at any time, i don't know that.
The text from the website of the project:
Presentation

We live in a country of mountains. We have much more mountainous territory than any other type of land. Anywhere we are in Chile, we can orientate ourselves by the mountains. We can view and admire them. However, we know little of them and few of us try to reach them.

Thanks to the desire, enthusiasm, passion for the mountains and appropriate preparation of the skilled teams who accepted our challenge a year ago, Banco de Chile managed to complete a great challenge; bringing a testimony to all the Chilean summits over 6,000 metres, the "Summit Box", which contain the necessary elements to allow the mountaineers that will come to leave their own testimony.

Today, we feel proud to display the experiences and emotions of each of these expeditions in the following pages. Especially because, in the testimony of each climb, they defined routes and directions that will allow many others, attracted by our majestic mountains, to reach the highest peaks in Chile.

Mountains allow diverse levels of challenge. The skils involved in a climb echo those needed to face the challenges of life and of business. They allow us, in contrast with many other activities, to show our courage and to put our individual capacity and teamwork to the
test.

It allows us to put an enterprising spirit into practice with the greatest possibility of success, through planning, defining goals, an appropriate use of technology and the respect and understanding of nature and the environment.

It also allows the development of the spirit of adventure, of the search for what is beyond what we know; of the unknown routes to the places where no one has set foot before.

And it allows us, above all, to look from above and see much more. View the world from another perspective, see how the rivers form, grow and meet each other. Appreciate the wounds that have been left by the hand of man, admire how human works have improved our quality of life, living magically and healthily alongside nature.

See how we have developed our cities and look at ourselves, appreciating our courage and capacities, accepting our limitations with modesty. All we have to do is climb the summit and take the time to look at ourselves honestly.

With this editorial project, we want to motivate others to experience the mountain and make sure that the experience is safe, precise and respectful.

We want those who can marvel with their mountaineering experience, to leave testimony of what they lived, what they felt and what happened to them. And we want them to feel grateful for what they have learnt. It is because of this that we have left, in the sacred places of our high peaks, the "Summit Box", as a testimony to that piece of life that they shared with the immensity of that mountain.

We want to leave a message for those who will come, a memory of an objective achieved with effort, with hope and with dedication, telling the history of our mountains, written by whoever had the determination to reach them, and were well-prepared enough to succeed in and enjoy the conquest.


Andrónico Luksic C.
Vicepresident
Banco de Chile
New info add on oct 3rd, 2011.
Concerning the "prohibition" to climb some mountains in Chile (such as San Pablo, San Pedro, etc.), I would like to say that... it is not prohibited to go to these summits ! As a matter of fact, unless you are chilean, if you want to get there, you have to get an authorisation from the official DIFROL administration (Dirección Nacional de Fronteras y Límites del Estado). These authorisations concern almost every high chilean mountain located on the border of this country. If you don't have it and if you are "caught" by chilean police in these places, you are normally breaking the chilean law.
Obtaining as many permits as you want from DIFROL is simple and free, though it takes a bit of time and must be thus thought in advance. You can do this through this web sites (in spanish and in english for some parts) : http://www.difrol.cl/index.php?option=com_content&task=section&id=12&Itemid=27
Of course, even if you have your valid DIFROL permit, chilean police will sometimes strongly recommend you not to go to certain mountains (such as Llullaillaco) because of mine fields or other objective dangers (potential volcano eruption can be one of them). But it would only be a warning as you legally have the right to go for it if you have your permit from DIFROL.
As you and many climbers did, it happened to me to climb chilean mountains located on the country's border without having the DIFROL permit... Some of these places are so remote that being spotted by police seems to be simply impossible !... but it is better to know that it is officially forbidden. Therefore, I could easily imagine that one would have some trouble in case of accident in such places (no insurance coverage for example).
Kind regards and hope you'll keep up enjoying climbing in the Andes and share your experiences !
By SPer:
Guillaume
Weather Forecast
PS: The name says San Pedro on the image, and the link is gonna get you to San Pedro page, but that will do just fine, it is a big volcano broken in two anyway.
Legal Issues

To hike/ climb is a dangerous activity and requires proper equipment and clothing, the owner of this page cannot be blamed by injuries caused to anyone who read this page for its info about the mountain, and eventually got hurt by doing so with reckless behaviour or bad weather conditions.

Paulo Roberto Felipe Schmidt – AKA: PAROFES
External Links
A brazilian website to get mountains info, including gps files to download:http://www.rumos.net.br/rumos/

My youtube channel: www.youtube.com/parofes - Now with 250+ videos online!

The biggest brazilian website about climbing and mountaineering, for which I'm a columnist: