Overview
Mount Judge
. The peak is gentle, rounded and wooded. Sadly the views are limited from her summit, though the top does present a pleasant summit boulder to perch upon. This is a great mountain to save for a cold snowy day when the trees on the slopes provide cover from harsh winter winds.
Rank:
2022nd highest peak in Colorado
Prominence:
1077 feet
USGS Quad:
Squaw Pass
Recommended Planning Map:
Trails Illustrated #100 Boulder | Golden
Rank and Prominence Stats:
Lists of John
Getting There
Santa Fe Mountain is surrounded by roads and highways and easily accessible from I-70 to the north and CO 103 to the south. Trailheads can be found both on CO 103 and Clear Creek County 182 (Beaver Brook Canyon Road.) For detailed route into, see the left panel for the route up
Beaver Brook Canyon Road.
Red Tape
This area is a strange patchwork of National Forest lands, Clear Creek County Open Space and a sliver or two of private property. Certain paths and gas pipelines, however, seem to be respected recreational rights-of-way. Please help ensure future access to these trails by behaving yourself and being respectful if accessing this peak from a residential area. There is no fee visit this area and permits are not required for parking or foot travel.

Please follow LNT (Leave No Trace) principles:

1.Plan Ahead and Prepare
2.Travel and Camp on Durable Surfaces
3.Dispose of Waste Properly
4.Leave What You Find
5.Minimize Campfire Impacts
6.Respect Wildlife
7.Be Considerate of Other Visitors

Camping & Lodging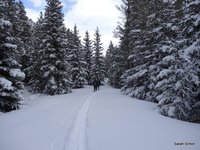 Echo Lake Campground
The Echo Lake campground is less than ten miles from the CO Hwy 103 trailhead toward Santa Fe Mountain. It is a small, relatively high elevation campground at 10,600 feet elevation with only 18 sites and is open seasonally from (roughly) late May through mid-September. There is no camping on the I-70 side of the mountain in the immediate vicinity of the peak.
Georgetown
The community of Georgetown has a few lodging options, mostly of the simple, family-run variety. Visit the
Trip Advisor Georgetown Page
for more information on lodging in this town.
Idaho Springs
Like Georgetown, nearby Idaho Springs has a few simple, family-run lodging options. Visit the
Trip Advisor Idaho Springs Page
for more information on lodging in this town.
Weather & Seasons
| | | |
| --- | --- | --- |
| Click for weather forecast | Santa Fe Mountain is a year-round peak and in fact winter is the ideal time to visit. Heavy snows in winter and spring could result in temporary closure of Hwy 103 and/or the residential access roads from I-70. Expect very dense crowds along the Hwy 103 / Hwy 5 corridor in the summer and heavy ski traffic on I-70 in the winter. | Click for weather forecast |
External Links
Please notify me via the Additions and Corrections section of any trip reports or other outside web information that should be included as External Links.