Overview
Schneespitze (Monte della Neve) 3172 m
Schneespitze in German, or Monte della Neve in Italian, is a secluded peak situated inside the Eastern Breonie Alps (Stubaier Alpen) and rising along the border between Italy, Alto Adige province, on the Southern side and Austria on the Northern one.
This fine mountain is surrounded by several other important summits, like the superb Tribulaun, having various different geological origins.Schneespitze is molded by dark metamorphic rock, while the close Tribulaun is molded by "dolomia".
Because of mountain's secluded position, from the summit the mountaineer can enjoy an extraordinary view all around over the neighbouring valleys and towards the surrounding peaks located along Italy-Austria border and towards the Dolomites.
Getting There
Road access
From A22 Brennero Motorway exit to Colle all'Isarco (Gossensass) and follow towards West the road to Val di Fléres (Pflerschtal), a little valley rich in natural beauties, leading to the locality named Fléres di Dentro (Inner Fléres) m. 1246, near the waterfall named "in der Holle", where the road ends (8,5 km. from Colle all'Isarco).
Approach to Rifugio Cremona - Magdeburger Hut
Schneespitze is approached from Fleres di Dentro (Inner Fleres) situated in the ending part of Val di Fleres. Parking in a road pull-out near last hotel. From this place the road goes on for some kms., but only resident's cars are allowed. From Fleres di Dentro follow the path n. 6 rising along a wood and leading to an upper parking. Cross the river on a wood-bridge an follow the good path reaching some "baitas" and summer pasture, reaching a waterfall and leading to Magdeburger Hut, overlooked by the shape of Schneespitze (path n. 6, 3 hours from Fleres di Dentro).
Schneespitze North-East Ridge Normal Route
Schneespitze North-East Ridge Normal Route
Difficulty: Alpine F+
Vertical gain: 750 m.
Starting point: Rifugio Cremona (Magdeburger Hut)
A very interesting route inside a wild evironment



From the hut follow the well worn path n. 6, reaching a path's fork. Leave the main path on you left-hand side and follow to the right a trail rising along rocky ground and snowfields and leading to a beautiful glacial lake and immediately to the Stubenferner little glacier starting point. Enter the glacier and climb a wide ice-gully leading to the upper snow-basin. From here climb straight the upper rocky slabs and snow's slopes leading towards right to the rocky East ridge. Follow this ridge with easy climbing, reaching another wide snow-basin. Traverse it heading to the summit cross, well visible from here. A rocky and snow ending slope leads to the magnificent summit-cross. Summit-Book.

The view is quite wide towards the very close Tribulaun, towards Alpi Aurine, Alpi Breonie and other peaks running along Italy-Austria border, towards Eastern and Western Dolomites and far off towards South-West over Brenta Dolomites, Adamello and Presanella Groups.
Essential gear
Rope, axe and crampons.
Hut
Magdeburger Hut at Stubensee (Stuben Lake) m. 2423 C.A.I. Vipiteno – 3 hours from Fleres di Dentro
RIFUGIO CREMONA - MAGDEBURGER HUT
Situation: Alpi Breonie, on a rocky hill at foot of Monte della Neve and Cima delle Pecore, in a open position
Open: from June 20th to September 20th
Size: 50 persons
Owner: C.A.I. Vipiteno
Guardian: Elisabeth e Hermann Vantsch
Refuge's phone: +390472632472
Getting There: from Fleres di Dentro (3 hours)
Red Tape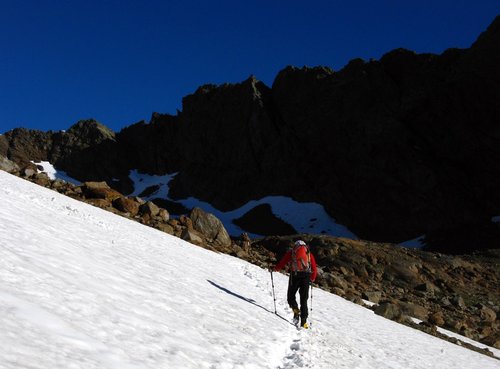 A wild environment. Cars are not allowed beyond Fleres di Dentro.
When to climb
Best season goes from the end of June to middle September.
Meteo
Guidebooks and Maps
"Prestigiosi Tremila del Sud Tirolo" by Hanspaul Menara - Athesia Ed.
"Montagne senza confine" by Fausto Ruggera – C.A.I. Bressanone
Map: Vipiteno - Alpi Breonie (Sterzing-Stubaier Alpen) Tabacco Map 1:25.000
External Links
RIFUGIO CREMONA - MAGDEBURGER HUT