Schuylkill Mountain Overview
Schuylkill Mountain
(pronounced "Shoy-la-kill" but could also be pronounced as "Skoo-Kill") is located in the heart of the Ruby Mountains which are an extension to the mighty Elk Range. It shares the area with many other mountains around Crested Butte. It rises 12,146 feet and is often mistaken by its different false summits which are easily recognizable from a lower elevation. It shares the same ridge as Richmond Mountain and Purple Mountain. It could be seen the best from the bottom of Angel Pass and Daisy Pass but also it can be seen from its back side from Oh-Be-Joyful. It is like a pyramid that has been sanded down with sandpaper. Its front face, which can be seen from the bottom of Daisy Pass and Angel Pass is a vertical rock wall which in the winter is a popular ski/snowboard back country run. Schuylkill and its neighbor Augusta Mountain officially mark the basin in which Daisy and Angel Pass start known as Poverty Gulch.
Getting There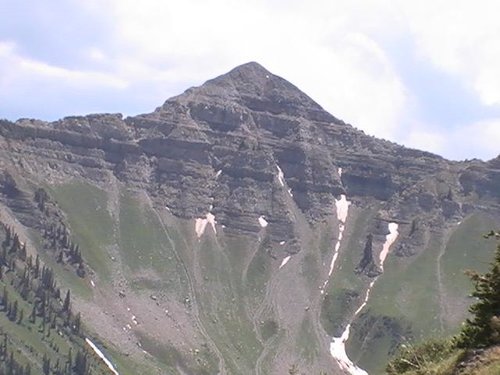 Getting to Crested Butte should be very easy, but once your there, go out of town, passing the cemetery and to the left is a sign for Slate River Road. Take this 2WD dirt road down to Oh-Be-Joyful to access one of the routes. But if you want more of an extreme and scenic adventure continue further until you see a sign that is marked Daisy Pass Tr. There is a parking area for 2WD vehicles. This is the beginning of the route if you have a 2WD vehicle, if you have 4WD vehicle, feel free to go across the river and enter paradise as you roll into the Daisy basin landscape. I personally go up there and camp up there every summer and I think this area is the most beautiful in the Crested Butte area. This area is loaded with Wildlife, flowers, HUGE waterfalls, and colors among colors. If you keep going down the road you will see a side road going down to a river. Park before you go down that road because that road is closed and that is the beginning of the route up Schuylkill. In front of you is a huge towering waterfall falling about 150 feet down from Augusta Mountain. That should be a good mark for the beginning of the trail.
Here is a basic overview of the two routes.
Daisy Pass Route (SE Slopes)
This, as explained, is the most scenic route. From the starting point by the river, go up the steep shale slope. Once you go up the slope you are inside a valley. As you climb, you can look behind you and see the mountains in Gothic like Avery Peak. You will go up a river like road until you get to a marker. Passed the marker is a trail. That trail takes you up to Daisy Pass. Go to the top of Daisy Pass and cross the ridge to the summit of the mountain.
Read the route description in the Routes section for a more detailed description.
Oh-Be-Joyful Route (NW Slopes)
This route essentially takes you to the top of Daisy Pass and from there to the summit as well, but you get to Daisy Pass by starting at the Oh-Be-Joyful trailhead. This route is longer and is mainly used for backpacking. You go through the trees for a little while and then go through a canyon. Once you see that the canyon is coming to an end, you start to zig-zag up to Daisy Pass. From there make a right up the ridge to the summit.
Direct SE Face Route
If you are looking for more of a challenge, this would be the route for you. Follow the Daisy Pass (SE Slopes) to the cut-off for Daisy Pass and then go back and go towards the pond, while ascending upward. Once you get to the rock field, it gets very hard and challenging. This route should only be used by experts as there is no defined trail and it requires careful route finding. You have many options to climb the wall on the mountain from here. See the in depth route on its own page in the route section.
Red Tape
No permit required unless you backpack off into the wilderness from this point. Please respect this area by packing it in and packing it out. In my 6 years of basically living up here during the summer, I've noticed that the increased amount of traffic has been carving an effect on the land scape so please stay on the trail.
Camping
If you are taking the Oh-Be-Joyful route, there are many free campsites in there along with many others up and down the Slate River Road. You can tent camp in 4 or 5 different areas in the Daisy basin. If on a rare occasion, all the spots up there are filled, don't create your own, camp on Slate River Road or Oh-Be-Joyful. I would not recommend bringing a camper up into the Daisy basin.
External Links
http://www.listsofjohn.com/PeakStats/Climbers.php?Id=1634