Getting There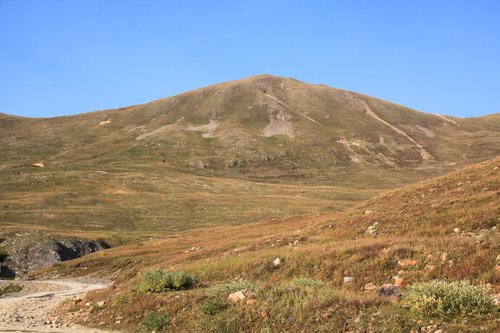 The easiest access is from 4WD road up Engineer Pass.
Engineer Pass road
is open only during the summer and early autumn season.
Engineer Pass Road
has a lot of history. Six years before building Million Dollar Highway between Ouray and Silverton,
Otto Mears
extended his toll road from Saguache to Lake City and over Engineer Pass to Animas Forks. This road was an important stagecoach route and the way for the wagons and mule trains to haul supplies and ore between all the main mining camps. Within three years, the route had daily stages run by Rocky Mountain Stage and Express Company.
You can access Engineer Pass road south of Ouray on the
Million Dollar Highway
, US 550. If you wish to avoid the hardest section of the Engineer Pass Road, drive to
Silverton
and towards Animas Forks. The road up to Animas Forks is nice, above has a few harder sections. I chose to drive from Silverton. Just past the Animas Forks turn off, I continued on well signed road up to Engineer Pass. Soon, Seigal mountain came to view. I continued past a sharp curve as the road did a couple of switchbacks. There was an old cabin on the left and a small unnamed lake. Just above this section, there was a small parking lot, just below Seigal Mountain. Trail up to Denver Pass starts here.
Route
From parking place off Engineer Pass Road follow the old and unsigned trail below the southern grassy slopes of Seigal Mountain. The trail initially gently traverses east and then heads up the the Denver Pass between Seigal Mountain and Unnamed 13708 Peak. There is no scree so common in San Juans. From the top of the Denver Pass there is a faint trail following the east ridge of Seigal Mountain. Enjoy nice views of Animas Forks Mountain and Horseshoe Lake below.
Expect less than 1 hr of ascent if moving fast.
The summit of Seigal Mountain had a small cairn. There was no register.
Descent: I decided to descent the western grassy slopes of Seigal Mountain. There was no trail, but the terrain was easy and shorter.
One can also access Denver Pass from Hurricane Basin - good for those coming from Lake City and not willing to drive over the rough section of Engineer Pass Road higher up.
Red Tape
Driving scenic Alpine Loop is free. There are enough parking places along Engineer Pass Road. Expect a lot of alternative off road vehicles during the peak summer months. Hiking is free.
When to Climb
Summer and early autumn is the easiest since you can drive to high up on Engineer Pass Road. Winter and spring provide a more difficult access, and you have to travel through avalanche prone terrain. Check avalanche conditions prior venturing out there in the winter -
Northern San Juan Avalanche Information Center
.
The alpine scenic loop is usually open to motorized vehicles in June and closes with the first big snowfall - late October, early November.
Camping
Primitive camping is available along the Engineer Road at various turn offs. You can sleep at the parking lot - flat parking makes sleeping in a car comfortable. There is a also a small unnamed lake and miner's cabin right across and little below the parking area.
Developed campgrounds are closer to towns - Eureka Campground on Silverton site.
External Links