Overview
Serpentine Hill located in the eastern Teanaway is yet another good destination to visit on the east side of the Cascades. The peak itself is officially ranked on the Wenatchee Backcourt summit list as #98 and it contains 450 feet prominence from nearby Iron Mountain. The peak is well named for the large amounts of Serpentine on its slope. The National Forest service has noted this so much that there are a number of "No Mining" signs along the road.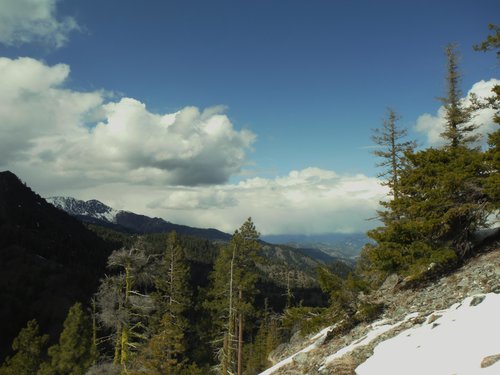 In terms of popularity Serpentine Hill is ranks in the medium range. There is no established trail to the summit although on the west side from gap between Iron Mountain and Serpentine Hill there is a steep but well established bootpath up the first uphill section. There is also a summit register on this summit. Vies on the summit are decent but on following up the west ridge the views tend to be excellent of the eastern cliffs of Iron Mountain, Miller Peak, the Leavonworth Area and Wedge Mountain.
In terms of difficulty this peak is a 3 mile road walk followed by a 1 mile bushwhack light scramble to the summit. In winter you will be sharing the road with snowmobiler whereas in summer you will be sharing the road with ATV's. Saying that the bushwhack and scramble is Class 2 would be pushing it (no exposure) but in winter an ice axe would be very helpful. In total this hike would be roughly 8 miles roundtrip and 2000 of elevation gain. Often this peak is combined with nearby Iron Mountain which would lead to a 12 miles and 3400 feet of elevation gain.
Getting There
VIA SCOTTY CREEK ROAD:
You want to be 10 miles north of Blewett Pass on Route 97. Head west onto the Scotty Creek Road. Take this road 3/4 of a mile until seeing a bridge to your right. Make a right on this bridge (and ignore the "No Tresspassing signs" because this is a public road) on road 7322. Take the road a half mile to the trailhead on your right hand side.
Route
From the trailhead take the road roughly 3.1 miles. You will hit a Y with one road going to the right and one going to the left. Go to the left. You will then hit another road to your right while you are turning on the road roughly two hundred feet from the first road. TAKE THAT ROAD as it slowly rises up towards the gap between Serpentine Hill and Iron Mountain. From there hike across the open gap to Serpentine Hill. You will pass excellent views in both directions while in this pass. You will then go up a short but steep section to the first false summit. If this is melted out you will clearly see that this is a well-established boot path. The boot path fades but the uphill continues. This is mostly steep hiking and light bushwhacking lead all the way to the summit rocks which contains a cairn and a summit register.
Red Tape
As of right now there is no red tape at this trailhead.
When to Climb
This is mountain that can be summited at all times of the year. I would however have two warnings when approaching this mountain. The first is that in the dead of winter, the road leading to this trailhead maybe either closed or snow-covered. That will add 3 miles roundtrip to a hike to Serpentine Hill. In summer this area can get very hot and dry and is prone to forest fires. Be aware of the fire danger and temperature when hiking here in summer.
Camping
Camping is permitted on this mountain. In fact there were a couple very good spots along the road with the best being just a quarter mile form the trailhead.
External Links
Serpentine Hill Peakbagger Page
Great Page by Eric Willhite
Serpentine Hill