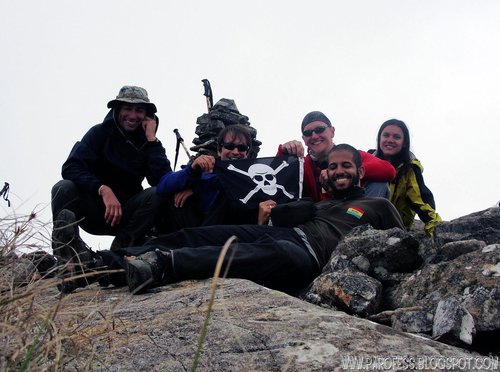 Serra Negra Peak from
Itatiaia
(it is important to say Itatiaia because Urubu is a very common name for mountains in Brazil) is a easy but never summited mountain inside the park, by mountaineers. Due to too much rules determined by the park administration, from the total of around 35 peaks from Itatiaia, it is allowed to hike/ climb just a few such as
Prateleiras Peak
,
Pedra Assentada
(must ask for authorization before and to present a harness, carabiners and rope)
,
Agulhas Negras
,
Pedra do Altar
,
Morro do Couto
,
Asa de Hermes
and
Pedra do Sino
.
And even so, you must get inside the park before 9am and get out before 5pm, otherwise you'll find yourself in trouble.
The best option is get a transport to the Serra Negra village, that means you'll be outside the park for a good night of sleep and it's gonna be easy to reach its summit without any disturb what so ever.
That mountain is easy to summit, has a great view, totaly different to any other views of the park.
Getting There
By bus
From Minais Gerais/ São Paulo/ Rio de Janeiro, you have to take a bus to a little city called Itanhandú. Several bus companies can take you there. Once you get to Itanhandú, take a nother bus from the same bus station to Itamonte, a smaller town at the bottom of the Sierra.
There is the point: Once you get to Itamonte, it is hard to find transport to the village. But there's some taxi drivers that know the park and can take you up, and that's gonna cost you around R$ 100,00 (about US$ 55.00).
You also can stay at the Rebouças Hut but that will give you an extra 18 kms walk as i did, and it's not easy: Altitude difference to do along the whole 18 kms walk: 680 meters up, 1.400 meters down! Starting point at 2.430 meters and goal at 1.710 meters (Serra Negra village).
After a good night of sleep, go in the morning for the summit. 11 kms round trip to the summit. The trail is wide open and easy. Once you get to a rocky little summit, you can climb it or go around it. By the left. Reach the col between this rock and the summit, now really close. Just follow the trail up and some cairns placed.
At the summit a big cairn and inside it the visitors book!
Video for the summit (me, Pedro Hauck, Tacio Philip, Dom Miranda and Paula Neiva):
Red Tape
Remember:
DO NOT
camp without the proper reservatioin and only by the hut.
Respect wildlife!
From november to march no cars can get inside the park because of the mating season for Flamenguinho Frog, or
Melanophryniscus Moreirae
Take your garbage with you, please...
Camping
There you can sleep at Serra Negra guest house, they offer campsite for R$ 15,00 (around US$ 9.00) with hot shower. Also meals at the same price.
The second option is to reserve the Rebouças Hut inside the park, but If you do that, you have to make a reservation to Rebouças Hut:
E-mail for reservation:
parnaitatiaia.rj@icmbio.gov.br
Phone number: 55 + 24 - 3352-1461/ 55 + 24 - 3352-7001
Hut capacity: 20 people.
Reservation: Obligatory (starting 30 days before the date of use)
Also, instead of going by taxi to the village you'll take the taxi to the park, stay at the hut, but remember, to do the 18kms trail down for the village is forbidden. Ask for it before by e-mail.
Weather Forecast
PS: The weather forecast on this link is not for this mountain but it will do just fine since the mountain from the forcast (Black Needles) is just a few kms away from it.
Legal Issues

To hike/ climb is a dangerous activity and requires proper equipment and clothing, the owner of this page cannot be blamed by injuries caused to anyone who read this page for its info about the mountain, and eventually got hurt by doing so with reckless behaviour or bad weather conditions.

Paulo Roberto Felipe Schmidt – AKA: PAROFES
External Links
My youtube channel: www.youtube.com/parofes - Now with 270+ videos online!

The biggest brazilian website about climbing and mountaineering, for which I'm a columnist:

style="display:block"
data-ad-format="autorelaxed"
data-ad-client="ca-pub-6523272176520096"
data-ad-slot="7132222476">