Note: Unfortunately, hiking into the Philmont backcountry is reserved for Scouts and Scouters on official itineraries. It is not generally open to non-Scouts/non-Scouters, or to Scouts and Scouters who aren't on official itineraries.
Overview
Shaefer's Pass is the common juncture for crews returning from treks to hike to the top of the
Tooth of Time
on their last day. It provides ready access from many camps, include Shaefer's Pass, Clark's Fork, Ponderosa Park, North Fork Urraca, and many others. This description assumes that the hiker has found his way to Shaefer's Pass.
Getting There
Getting to Shaefer's Pass will depend on the specific Philmont trek itinerary. Generally, there are four trails into the pass; from the north (Clark's Fork, etc), from the west (Black Mountain), from the south (North Fork Urraca Camp, etc) and from the west (the Tooth itself, which is the route you might take if you visited the Tooth on the first day of your trek).
Route Description
The route will take you along the Tooth of Time Ridge. From Shaefer's Pass up to and around Shaefer's Peak is a class 1 hike on a modest uphill grade (about 500-feet maximum vertical ascent).
However, once around Shaefer's Peak the trail quickly becomes class 2 (with an occasional mix of short, class 1 trail). You will be hiking over large boulders with little change in elevation.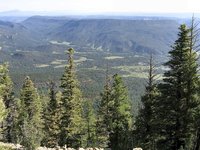 The trail is easily followed. There are plenty of great views of the surrounding mountains and mesas, as well as the valleys below. Unless you're hiking outside the summer trekking season, expect to see many other crews. In fact, unless you're first on the ridge, you'll probably realize that you've reached the turn-off for the Tooth itself by the many dozens of backpacks you'll see lined up. Set up your own pack line and strike out for the top. Expect this to be a 440-foot (vertical) Class 3 climb – nothing requiring rope or other special gear, but you'll be using your hands occasionally to scramble over the large boulder field. It's about 3.5 miles total distance from Shaefer's Pass to the top of the Tooth. The last 1/4-mile will be pack off.
Essential Gear
1. Although you shouldn't have any difficulty following the trail, you'll want to carry the
Philmont Scout Ranch South Country section map
.
2. If you're continuing back to main camp along the ridge or via the
Stockade Trail
, you'll have lots of exposure to the afternoon sun and will want to drink lots of water. Take plenty of filled water bottles, or perhaps even a collapsible dromedary. Refill with water at Shaefer's Pass Camp; there isn't any other water supply along the ridge (Some seasons Shaefer's Pass Camp is dry, so check before departing your camp the evening before!). If you do carry a dromedary, you can sling it under a walking stick and let two people carry it until it's used up (you'll want it to be empty and stowed before hitting the class 2 section past Shaefer's Peak).
3. You'll want some means to treat the water at Shaefer's Pass.
4. A hiking stick or trekking poles might come in handy for crossing some of the Class 2 rocky terrain. Once you've dropped your pack for the final Class 3 ascent, however, it's best to just scramble using hands and feet.
5. A small daypack to carry water, camera and other essentials to the top of the Tooth after you've dropped your backpack.
6. Depending how long you'd like to linger at the top, you might want to have some insect repellent – in warmer seasons there will be plenty of ladybugs (not too annoying) and gnats (quite annoying). Descend even as few as 10-feet to get away from the little buggers!