Overview
Shark's Tooth Peak often attracts the eye of hikers and climbers packing and unpacking their gear at the Raspberry Creek carpark in the West Matukituki Valley. The reason for this is pretty simple - it's name really describes it's appearance. There can be no doubt about which peak you are looking at.
However, most people at this trailhead have other objectives in mind, as it's also the trailhead for Mt Aspiring, The Rob Roy Glacier and Cascade Saddle, among others, and because of it's glamourous competition in this area of Aspiring National Park, few people actually have time to take a more serious look at this interesting peak.
For those who do go for a closer look at the Shark's Tooth, there are some quite discouraging features that become fairly obvious before one gets too far into the project - as we ourselves were to discover. The Shark's Tooth is well defended by waterfalls in the stream beds (which at first glance appear to be the obvious approaches), by smooth steep slabs, and by long and treacherously slippery grass slopes which, in places, are well beyond 45 degrees and interspersed with the occasional soil-slip just to add a bit more challenge.
We had a crack at it in summer (although we were beset by drizzling rain which is hardly unusual in this area)but one more line of defence seems apparent against those making a winter attempt. The smooth slabby nature of most of the upper reaches of any route from the north side (ie from the Matukituki Valley) must surely be a serious avalanche hazard. The upper sections are definitely not places I'd like to be in spring snow conditions.
We did not succeed in our attempt to scale Shark's Tooth Peak. a combination of wet, steep and slippery grass slopes and Allyson feeling more and more ill with the flu as the day wore on resulted in ignominious defeat with sheep looking on. But hopefully, this page will be of some assistance to the next person to give it a try. We didn't take axes due to summer conditions, but they would have actually come in quite handy on those damned grass slopes!
For anyone who does succeed, you will have the pleasure of knowing that this is a rarely visited peak. It also offers spectacular views up and down the Matukituki Valley and surrounding Peaks.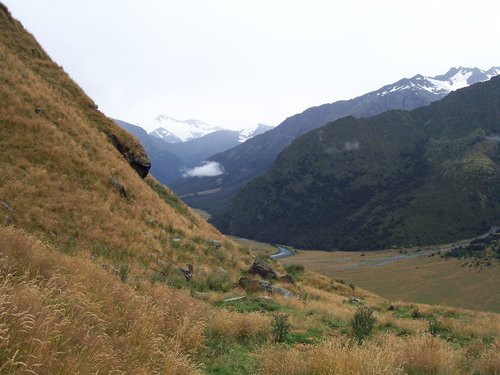 View upstream in the East Matukituki Valley from the slopes of Shark's Tooth Peak. The grassy slopes below this vantage point are very steep -and slippery when wet! (Note the angle of the grass slope at upper left - you get the idea).
Getting There
NZ Topo 50 Map CA11 (Aspiring Flats)
From Wanaka, take the Mt Aspiring Road north from Wanaka and follow it all the way to it's terminus at Raspberry Flat. At the carpark, simply turn your gaze to the south (ie. away from the road) and the Shark's Tooth is the obvious feature worthy of the name. You will be in no doubt which peak you are looking at.
Walk back down the road (away from the Aspiring trailhead) about 500 metres and you will notice Raspberry Creek Hut (a privately owned shepherd's hut)at the point where Raspberry Creek emerges from a steep and vegetated gully on to the relatively flat paddock in front of the hut. A quick glance will no doubt suggest that the Raspberry Creek stream bed is not a good option as it disappears almost imediately into a steep and vegetated gully which looks anything but fun.
To the left (east) you will notice the foot of a steep grassy spur, somewhat resembling the toes of an elephant, beyond which, you will probably be initially attracted to the possibilities offered by a very obvious stream bed which seems to offer access to the upper reaches of the mountain. That is until you notice the near vertical waterfall running over very smooth slabs at around the 1000 vertical metre mark.
So turning your attention to the grassy spur between the stream beds you will no doubt conclude, as we did, that although steep grass dotted with sheep-poo is not exactly a glamourous mountaineering attraction, there is not really much option but to tackle the steep paddock and try to ignore the derisive bleating of the sheep as you slip and slide (if the conditions are wet anyway) on grass slopes which hit 50 degrees in places.
Red Tape
None (Although run-holders generally appreciate the courtesy of you seeking permission to cross paddocks and this may be politely declined in the lambing season)
Call in and speak to someone at Aspiring Station (farm) on the left just after the Aspiring road turns west into the upper Matukituki Valley (about 2km before the East and West Matukituki Valleys split) or leave a note if there's no-one around.
You can leave your trip plan with the DOC office in Wanaka as a safety precaution.
Camping
There are no camping facilities at Raspberry Flat (oddly). The nearest campground between Wanaka and Raspberry Flat is at Glendhu Bay on Lake Wanaka, just a few km along the Aspiring Road and only about a half-hour drive from Raspberry Flat. There is also the option of either Cascade Hut or Aspiring Hut 6 and 8 km further up the East Matukituki Valley, but this would involve backtracking unless you were planning to explore up here anyway, as most do.
External Links
http://travelingluck.com/Oceana/New+Zealand/Otago/_6205901_Sharks+Tooth+Peak.html#local_map
http://southernalps.wordpress.com/2010/08/05/sharks-tooth-peak-2096m/