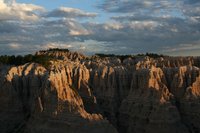 Overview
It was with a lot of hesitation and second-guessing that I posted this page. The reason is that to get to the summit of Sheep Mountain Table, all you have to do is drive up on a high-clearance road. Some maps show two trails-- Wasicu and South End-- at the end of the road, but those trails seem to have given way to vehicles and become roads, for there are now 4wd roads in the exact places the maps show the trails to be. From road's end, it is possible to hike over to Cedar Butte, and it
might
be possible to do a ridge traverse to some formations called the Castles, allowing at least
some
sense of climbing.
There are three reasons I ended up posting this:
1. It is still possible to do quite a bit of hiking, scrambling, and rambling up here.
2. Web searches I have done have yielded very little useful information or pictures about this destination in one of the lesser-traveled sections of Badlands National Park.
3. Most importantly, the REI Power Points Dividend.
Sheep Mountain Table is a large mesa in the Stronghold Unit of Badlands National Park. Much of that unit lies within the Pine Ridge Indian Reservation, and the south end of Sheep Mountain is on reservation land but still in the park, which may explain why there seems to be no special red tape that doesn't exist elsewhere in the park.
The mountain itself is not that spectacular-- it is long, broad, and flat, and there are not many interesting features on it. At the edges, however, it is a different story, for the mesa drops suddenly and sharply and reveals wildly eroded flanks and views to remote ridges and spires, including the White River Badlands, another part of the park few visitors ever bother to see, much less explore.
So come on up, get out of the car, and explore. Enjoy the solitude and the views. But if all you've done is drive up here, please don't check the box in the log that says you "climbed" the peak!
If you are interested in climbing Cedar Butte, you will find it southwest of road's end, less than half a mile away. It appears that it would not be difficult to reach, but there is some badlands terrain to cross first, and as I did not climb it, I cannot say for sure about the conditions. Cedar Butte is labeled on USGS topo maps.
The Castles are east of road's end and easily visible from it. However, the connecting ridge runs southeast from Sheep Mountain Table, and you have to reach it by leaving the road about half a mile from the Wasicu Trail/4wd track. In all likelihood, it is not possible to traverse from Sheep Mountain Table to the Castles because of the narrow, brittle nature of the ridges here, but it certainly would be worth a look. Another factor to consider about the Castles is that they are outside the park boundary and on the Indian reservation, so there may be special access rules involved. The Castles are not on USGS quads, but they are labeled on the Trails Illustrated map for Badlands National Park.
Getting There
From the tiny town of Scenic, south of the North Unit of the national park, where the vast majority of visitation occurs, drive south for 4 miles on SD 27. After about 2.5 miles, road crosses into the national park, and just before it crosses out, there is an unpaved road on the right (west) that leads to Sheep Mountain Table.
The road is 6.5 miles long, but you can add a couple miles for the trails that are now roads. For about the first four miles, it is a good dirt road that most passenger cars can handle with no problem. At an overlook called the Gunnery Range Overlook (the area in view used to be the site for weapons testing, and there may still be unexploded shells about), a sign states that the rest of the way, the road is for high-clearance vehicles only. The sign is not joking. Although there are no serious obstacles, there are off-camber sections and deep ruts that will make it hard to proceed without high clearance. In dry conditions, which is to say most of the time, 4wd is not necessary, but when wet, the road can become a gumbo that may prove to be too much even for vehicles with
real
4wd. The Wasicu Trail is a spur that breaks off and then rejoins the main road, and the South End Trail is a loop that does indeed start at the south end of the road.
Camping
Along the road, there is a sign indicating that Sheep Mountain Table is a day-use area, which means that there is no camping. However, the official park map and guide does not indicate that restriction. So it is you who must make the call. My gut says you should obey the posted signs even if they may be outdated, but as you can see from the picture here, I did spend the night, and there were plenty of signs that others have, too. If you do decide to stay the night up here, please practice Leave No Trace ethics.
A Little Rant
Indulge me here.
This is a remote place. If you spend the night out here, please practice some basic etiquette and respect other people's privacy.
About an hour after I'd found my spot for the night, and it seemed that I not only had found the best one but would also be the only one out there since sunset was close, a couple arrived in one of those crossover things they used to call a small SUV. Despite the empty terrain and the many secluded spots (with views) all about, they proceeded to set up camp almost within a stone's throw of where I was. The man seemed a little flustered that I was where I was; perhaps he was hoping I'd leave so he could snag that spot. Since I was sleeping in the car, not in a tent, it could understandably have seemed to him that I was just there for a bit.
It didn't take long for them to figure out that I wasn't going anywhere anytime soon, so they set up their tent, not too efficiently, I might add. Then the lady pulled out a violin and started playing! Now, I know people like to do stuff like that in the backcountry, but doing it so close to someone else, within both sight and sound of that person, seemed awfully obnoxious.
If there's any music that vies with rap in producing love/hate reactions, it's country and western. As I am a fan of classic country and authentic country, not that packaged, faux-folksy noise that dominates the industry these days, I figured my neighbors might like a little, too, so they got some. I have no idea if that had anything to do with it, but she stopped her playing shortly after that.
Later that night, they packed up and moved farther away. It was after dark, so your guess as to why is as good as mine. I like to think I was disrupting their sleep or whatever else they were up to with my occasional visits to the cooler to get another beer, complete with opening and shutting of lids and doors, while I soaked up the romance of the West by watching a movie on my portable DVD player.
Elbow room, folks. Give people some when you can!
Red Tape
Unless you are approaching from Sage Creek Basin, you probably will not go through an entrance station and thus will not incur the $15 park entry fee.
You must stay on established roads with your vehicle.
It is illegal to disturb or remove fossils and Indian artifacts.
Keep a safe distance-- at least 100 yards-- from bison.