Overview
The Sierra De Las Uvas range is a small mountain range to the west of Las Cruces, NM. Magdalena Peak is the highest point of the range at 6,625 feet and a prominence of 1,946 feet. Right next to Magdalena peak is the second highest peak, Sierra De Las Uvas North with an elevation of 6,601 feet and a prominence of 631 feet. Even with the prominence of Magdalena peak, the Sierra De Las Uvas range is seldom visited by hikers. Because of this there are no hiking trails in these mountains. However, off trailing is easy because of the small amount of vegetation. Hunters do come here relatively often usually looking for white tail deer. Off roaders also come and visit this area but this range still does not receive a lot of visitors.
This mountain is on the huge Corralitos ranch. The owners of this ranch are friendly and don't mind hikers hiking through their ranch. Since this mountain is on the ranch you can expect to find some cows. Just beware of the bulls. They can get a little cranky if you come to close to them.
Getting There
From Las Cruces, take I-10 west. Take the airport exit, turn right then immediately left to get on the frontage road. Turn right into the entrance of the Corallitos ranch at county road 9. This is a paved road and any vehicle can take this road. Follow this road for quite a while and it will eventually turn into a rough dirt road. This road is somewhat rough. If you have a good off road vehicle (Doesn't have to be amazing but should be 4 wheel drive and decently high clearance) you can take this road for about a mile and a half then take a left at the fork in the road. Take this road as far as you please. It eventually dead ends in an arroyo.
Nearby Peaks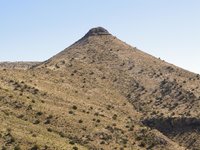 If you are a peakbagger and want to climb multiple peaks in one hike this is a good area to do that. Sierra De Las Uvas North, Magdalena peak, Sugarloaf peak, and Peak 6341 are all easily within a 1 mile radius of each other. Crossing the ridge to the other mountains can prove to be an obstacle course though. This area has quite a few cacti so you will have to be willing to risk getting poked a few times if you want to grab a few extra peaks.
Red Tape
None, just respect the Corralitos ranch property
Camping
There are no campgrounds in the area. The closest camping areas are on the east side of Las Cruces in the Organ mountains.
External Links
4 wheeling