Overview
Silver Tip Benchmark is a striking little mountain near the small town of Belfry just a few miles north of the Wyoming-Montana border. While there is no trail to the summit, a little easy scrambling on some badlands terrain will put you on top of the ridge that leads to the summit. From the top, you will have expansive views of the Eastern Beartooths, Pryor Mountain, and a slightly more distant look at the Northern Absarokas and Heart Mountain. A very large cairn adorns this summit, which sits above fairly steep drop-offs to the north, east, and west sides of the top.
This would be a fun hike for anyone driving between Billings and Cody who wants to get out for an hour or two and take in some good views from a high vantage point. Winter is a great time to be out on this mountain, when the rattlesnakes that enjoy this type of terrain are avoiding the snow and the cold.
Getting There and Hiking Information
From the three-way intersection just west of Belfry, Montana, head south on Highway 72 for 1.7 miles and turn left on Holzum Lane. Cross the bridge and keep right before turning left on Musgrave Lane after about a mile. After about 1.2 miles, this road turns 90 degrees to the right and travels through a short stretch of posted private property before crossing into BLM land.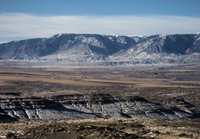 Park off to the left immediately after passing through the gate and pick a route up to the ridge; going up the ridge to the right is easier and longer, while the more direct route to your left is a much steeper scramble. Once you reach the top of the ridge, turn left and walk north to the summit.
It is also possible to access this peak from the east via South Silvertip Road, which is reached by turning right on Dutch Lane north of Belfry. This side has slightly more elevation gain, and requires navigating a small gully just off of the road that may or may not have water in it, depending on the season.
Summitting Silver Tip Benchmark is a round-trip hike of 2.0 miles and 700 feet of elevation gain.
Red Tape and Camping
Respect the private property on the west slopes of the mountain and stay on the BLM land. While camping on this peak is not necessary due to the shortness of this hike, follow BLM regulations regarding overnight stays in this area.
Rattlesnakes can be found anywhere in this sandy, rocky, sagebrush-covered area, so keep an eye out for them if you hike here in warmer weather.
External Links
Billings BLM Office
Silver Tip Benchmark on
Lists of John