Overview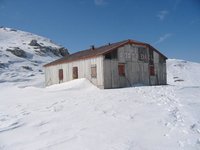 Sitnik

is centrally placed hut on the central plateau of the Bjelasnica massif,
betveen the long ridge of Vlahinja on the east side and Mt. Visin on the west.
Bjelasnica range is located in central Bosnia and Herzegovina, directly to the southwest of Sarajevo, the country's capital.
Hut is located almost halfway on the trail between the trailhead at Ljubovcici village
and the Bjelasnica Observatory.

Hut is unshielded - open by appointment only.
Accommodation should be negotiated with the hut owner, the


Bjelasnica mountaineering club

from Sarajevo.

Prices:
accommodation in the hut costs 8 Bosnia-Herzegovina Convertible Marks (BAM)
(4.09 Euros, 5.88 USD) per night
for Bjelasnica mountaineering club members,
other visitors have to pay 15 BAM (7.67 Euros, 11.02 USD)

For up-to-date prices and hut conditions,
one is again advised to contact Mountaineering Club Bjelasnica.

Contact:
street address: Zelenih beretki 15, 71000 Sarajevo
phone: 00387 (0)33/ 53 53 71
fax: 00387 (0)33/ 53 53 71
mail: planinar@pdbjelasnica.ba

Club office is located just a short walk
from the Sarajevo Tourist Information Centre
(Zelenih Beretki 22a, phone 387 033 220 724).
Getting there, routes
Access to the hut:
Pazaric village (train stop) - Ljubovcici village.
From Ljubovcici, folow the path via Bor and

Stanari hut. 3 1/2 hours.





Lokve village. folow the dirt road to Salihagina bajta ( 10 km).




From there, path via Stanari hut. 2 hours





From the Bjelasnica Observatory, follow the marked path due west then NW. Round 3 hours.





Tours:

to Stanari hut (1585 m) 1 /12 hours

Summits:


Hranisava (1964m), 2 1/2 hours

Krvavac ( 2057m), 3 1/2 hours

Bjelasnica peak (2067m, observatory) 4 hours

Lokvanjsko lake

at the western foot of Velika Vlahinja summit, 2 hours




How to get to Sarajevo, short guide here

Map. And the Book.
Map
Bjelasnica-Igman hiking map

, scale 1:50000



This is the most up-to-date hiking map




and was issued in 1987

by joint efforts of Geodhetical Institute Sarajevo
and

the Alpine Federation of Bosnia & Herzegovina.




Trail routes may not reflect accurately the current conditions on the ground




Book:



Forgotten Beauty:




A Hiker's Guide to Bosnia and Herzegovina's 2000 Metre Peaks - and Other Selected Adventures


by Matias Gomez.

164 pages,
published in 2005 by BUYBOOK

See review over at Summitpostgear

At Sarajevo, book is available at the BuyBook store in Bascarsija
(Zelenih Beretki 8, again in vicinity of both the Tourist Info Centre
and the Bjelasnica mountaineering club)



Weather