Rating The Tour (By Hiking Standards)
0. General:
From 1611m to 2333m, exposition S and E, in normal conditions (if not icy) you need only the usual ski touring equipment.
For the whole tour count no more than 4h.
1. Effort (ascent):
725m, 2h,
2. Power:
2 - easy (couloir up to 40 degrees),
3. Psyche:
2 - easy,
4. Orientation:
1 - no difficulties.
Getting There
The ski tour from Mala Mojstrovka is one of the most popular ones in Julian Alps. The reason is a fine starting point - the high Vrsic pass, 1611m. In winter and early spring the road is usually not cleaned, but if it is, you can start ascending immediately after you exit your car. If the road is not cleaned you usually need to walk additional 2h from Hotel Erika, 870m, on the northern side of the pass.
Route Description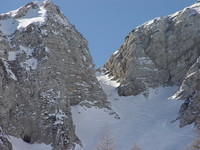 Ascent
The ascent on Mala Mojstrovka is the same as described in Velebit's summer Southern Route. From Vrsic Pass we go through dwarf pines and then steep towards left on clearly seen notch in Mojstrovka's S ridge - Vratca, 1983m. The couloir just below the notch is quite steep - some 35-40 degrees, but the ascent is not exposed. When you reach the S ridge, you continue towards right by it. In winter it can be steep in some places, but in normal conditions you should have no problems with only ski tour equipment. Take care of corniches on the top!
Skiing
When skiing down it is best to keep right, to the saddle below Velika Mojstrovka and then by a beautiful slope down. Some 300m lower you have to decide - whether to ski over Vratca notch, or to continue down into the so-called Drevesnica. It all depends on snow conditions.
Over Vratca
As Mojstrovka's S ridge is often free of snow in the part above Vratca, you usually have to go some 50m without skis. Continuing by the slopes on the right (on Trenta side) first looks fine, but soon becomes steep and exposed, and, it is tue, brings you on skis just below Vratca notch. From the notch down everything is clear. First the steep couloir, then the fine slope which brings you directly on Vrsic pass. This slope is in heavy snow conditions dangerous for avalanches. To get some impression of their power, do the following: After the ski tour go from Vrsic pass up to Ticarjev dom. Imagine there how that house was one winter totally destroyed only by avalanche wind (snow masses didn't reach it), the avalance came down from the slopes of Mojstrovka, on the opposite side of the pass.
Through Drevesnica
The second option is to continue skiing by the fine slope southwards. If snow is not too soft, you'll enjoy skiing to the altitude of some 1550m, there you hit the marked path and continue by it horizontally towards the left just to Vrsic pass. This is an easy variant for less skilled skiers.
Essential Gear
Add Essential Gear text here.