Overview
The hike from
Schattenlagantalpe
across the wide pastures of
Sonnenlagantalpe
towards the summit of
Mottakopf
is an easy half-day affair. It traverses the south slopes of the
Wildberg Ridge
across the wide pastures of the sunny (name)
Sonnenlagantalpe
. The route scales 900m of elevation and thus is strenuous but only on the summit will you meet any exposure.
The hike starts with a few hundred metres across a dirt road to
Untere Sonnenlagantalpe
, from where a winding path takes you across the pastures. Up to the upper pasture there are no difficulties and even above there aren't many to speak of. The hike gets steep in the end, while it winds between the summit rocks and reaches the exposed (to the north) summit risge.
Getting There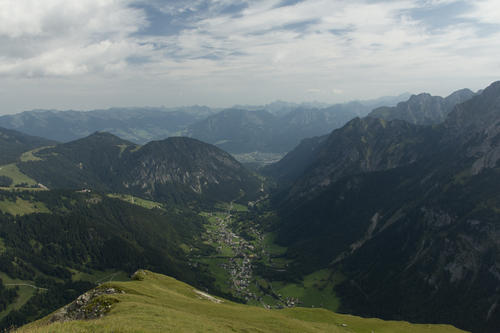 The trailhead is at
Schattenlagantalpe
in the end of
Brandnertal Valley
. The location and driving instructions are given on the Mottakopf main page. There also is a bus stop at the trailhead.
Route Description
General:


Start altitude: 1300m

Summit altitude: 2176m

Prevailing exposure: S, N on the summit risge

Type: Hike

Protection: None



Effort: 2 - Elevation gain: 900m

Power: 2 - Easy

Psyche: 1 - Exposed on the overhanging summit ridge

Difficulty: 1 - Easy hike

Orientation: 1 - Marked and easy
From the parking spot near
Gletscherbach Creek
return to the road and hike it downvalley around the next bend. At the busstop "Sonnenlagant" turn left (north) onto the dirt road whichheads up beside the creek. After a few hundred metres it turns right and heads directly for the farm buildings of
Untere Sonnenlagantalpe
(1326m). Right before it reaches the buildings a path turns off to the left (signpost).
The path now leads across the pastures of
Sonnenlagantalpe
, most of which are oben with only a few trees clustering here and there. In two wide sweeps it takes you to the farm buildings of
Obere Sonnenlagantalpe
, where a picnic bench and table invite you to take a rest. The spot is famous for iits views across
Brandnertal
to the
Valkastielkamm Ridge
, in which
Zimba
takes the prominent position. But also the close-up view into the impressive horseshoe-shape cirque which is formed by the central mountains of the
Schesaplana Group
and which was carved by
Gletscherbach Creek
belongs to the views you will keep in mind from the
Rätikon Area
.
From the buildings the path first heads steeply upwards towards the
Wildberggrat Ridge
. Long before it reaches the vertical faces beneath the ridge it turns right (northward) and traverses the slopes, more or less directly heading for
Mottakopf
. A vertical buttress is passed after which the path heads for the prominent gap between the summit rocks, which offers the weakest spot on the whole ridge. A rocky traverse, a few sweeps across the gap and you stand on the
Wildberggrat Ridge
only steps away from the summit cross. To the north-west the ridge drops with impressive but brittle overhanging faces deep into Zalimtal. Up front you can see right through
Brandnertal
towards the provincial capital,
Bludenz
.
Essential Gear
Hiking gear is sufficient.