Approach
The starting point for the route is Mięguszowiecka Przelęcz pod Chłopkiem /2307 m/- a wide pass between Mięguszowiecki Szczyt Pośredni and
Mięguszowiecki Szczyt Czarny
. It may be reached from both sides: Polish and Slovakian.
From Polish side:
To reach the pass from Polish side, first of all, you have to go to Morskie Oko /1395 m/. It could be done within 1,5- 2 hours from parking place at Palenica Białczańska by an asphalt road /in season really crowded/.
From the hut go down to the lake and choose the shorter left variant of red marked route that goes around the lake. It takes 15 minutes. After that the path is steeper and goes up the threshold of Czarny Staw pod Rysami with nice views of the stream /left/. From Czarny Staw pod Rysami /1585 m, 45 minutes from Morskie Oko Hut, nice views to famous wall of
Kazalnica
/ take green marked path. Zig- zagging through bushy pinus- mugo branches gain 200 meters of height and enter to the Bańdzioch Cirque. Traverse on the left side /danger of stonefall/ and after crossing a stream turn left /last running water/. By easy rocks /in some parts secured by chains/ reach the summit of
Kazalnica
/2159 m/. From here take and exposed grassy ridge to the summit dome of
Mięguszowiecki Szczyt Czarny
and then traversing right go straight to the visible pass /this part is often covered by snow/. From Morskie Oko: 3h.
Attention:
the road to Morskie Oko is now closed because of roadworks. There are several other possibilities to reach Morskie Oko by marked paths but there are longer and more fatiguing. The shortest:
Palenica Białczańska- Dolina Roztoki- Dolina Pięciu Stawów Polskich- Swistówka- Morskie Oko: 4,5 h.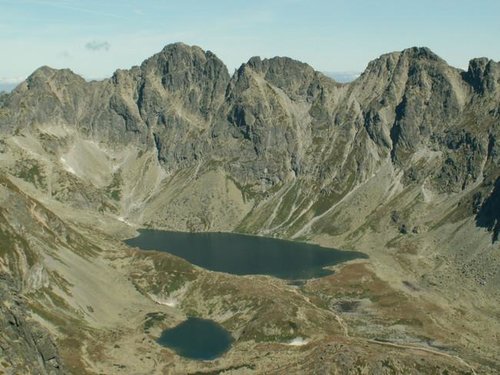 From Slovakian side:
Marked route /blue/ which leads to Mengusovská Valley starts at Popradské Pleso /1494 m/. It can be reached by marked trails from Štrbskié Pleso /red or green, 1,5 h both/ or by road froam a railway station 'Popradské Pleso': 1 h 15 min. The trail /crowded because at the first part goes the same way as route to Rysy/ leads by a wide valley with nice views to Gran Baszt with the highest summit- Satan to the bottom of threshold. After few zig- zags you reach Vel'ké Hincovo Pleso /1946 m, the largest lake in Slovakian Tatras/.
There you leave the marked path /see red tape at
main page of Mięguszowiecki Szczyt Pośredni
/ and take the old path that leads to the direction of
Mięguszowiecki Szczyt Czarny
. Here you find the ramp, follow it left straight to the saddle of Mięguszowiecka Przelęcz pod Chłopkiem.
Route Description
From the pass turn west and go up by a grassy slope to the first rocks. Climb the first steps of the ridge trying to stay a little left /south/. When the ridge turns narrower stay on it and follow to the first difficulties: a gap between two little rocky towers- the easiest way is to jump from one to another. Continiue straight on the ridge /almost horizontal at that part/ to the base of smooth slab: climb directly up /very exposed, II/II+ if dry/.
After that ridge becomes a little wider, and the route follows it bypassing some crags on the right /north side/.
Reach the central summit of Mięguszowiecki Szczyt Pośredni and then climb down to the little pass betwen the central and the main summit where you make an easy traverse on the north side of summit block and go as high as possible on rugged terrain. From that point climb few meters up on the left side of the wall, then traverse on a narrow crack /a little overhanging, difficult with heavy backpack/ and when the crack ends climb up to the ridge /II+/III-/. Follow the ridge to the main summit /I/.
Descent
The easiest way is to descent by
Droga po Głazach
: strictly by the ridge in western direction. After few minutes you reach the top of a rocky step.
Place a sling on a little rock tower /or use some old ones placed there/ a rappel down the whole crag /about 27 meters high/ to the uppermost part of Pośrednia Mięguszowiecka Ławka- a rocky/grassy ramp that goes across south face of the peak. Follow the ramp down /easy/, connecting with
Droga po Głazach
. From the end of the ramp by loose rocks up to the pass /0+/I/.
Another possibility /i.e. when icy/ is to get back by the same route. Two hardest passages may be done by rappels.
Essential gear
In summer:
Rope /preferable 60 meters for the rappel/.
Quickdraws /set/
Few medium sized nuts or friends /optional, can be done without them/
Slings /a lot, all lenghts/
Helmet /recommendable/
Mountaneering boots are sufficient.
The ridge offers plenty of posibilities for belayng from natural rock formations. Good parties do it simul-climbing.
In winter:
All you need for rock alpine route rated AD in winter.
Check the avalanche danger: both approaches are avalanche- prone.
Additional info
For problems like 'getting there', 'accomodation', 'red tape' and 'mountain conditions have a look at
main page of Mięguszowiecki Szczyt Pośredni
.