Overview
This route is probably the shortest, simplest and a very comfortable variant to climb Cerro Tres Cruces Central. Through the snowfields and the glacier in the summit area one avoids the many, steep fields of scree.
Getting There
Starting at camp II, one traverses at the foothills of Cerro Tres Cruces Sur toward northeast. One meets again and again a path, which facilitates the ascending in the loose scree for something.
After one crossed a snowfield (S27 05,286 W68 48,477, 5578 m), one traverses further toward northeast, but gains more and more height, till one finally is below the pass and ascends now directly to the pass.
One establishes the camp (S27 04,986 W68 47,642, 5896 m) beside the highest situated lake in direct height of a snowfield, where one has usually good drinking water. The water of the lakes is salty and brackish.
Route Description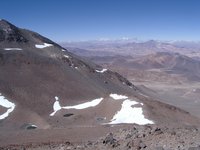 From the camp first something towards northeast, then north the slope up, at position S27 04,660 W68 47,458 (6179 m) again somewhat northeast on a shoulder (S27 04,612 W68 47,401, 6254 m) and further to the snowfield (S27 04,576 W68 47,319, 6282 m). One climbs with crampons to the upper end (S27 04,509 W68 47,268, 6340 m). Over rocks and scree further to position S27 04,432 W68 47,197 (6408 m) to the next snowfield.
Ascend also this snowfield to its upper end (S27 04,355 W68 47,178, 6465 m). Over stones and scree up to the ridge, where one has the enormous summit before oneself. Down to the glacier (S27 04,313 W68 47,159, 6478 m) and ascend directly without crevasses to the summit.
Essential Gear
Since in every case the glaciated summit area has to be used, crampons are absolutely necessary.