Overview
This is a fairly rugged and steep trail-less route. There are game trails to follow and the route is class 2. This may be the most spectacular route on the mountain because it follows the rim of the Cross Mountain Gorge up the anticline with spectacular views of the gorge for the entire distance. This route is about 5.5 miles round trip.
Getting There
From Mile Marker 44 on Highway 40, west of Maybell or east of Dinosaur, turn north on the road marked for Deerlodge Park. Drive this paved road north for about for 4.1 miles to a parking lot on the right (east side of the road). This is at the Yampa River.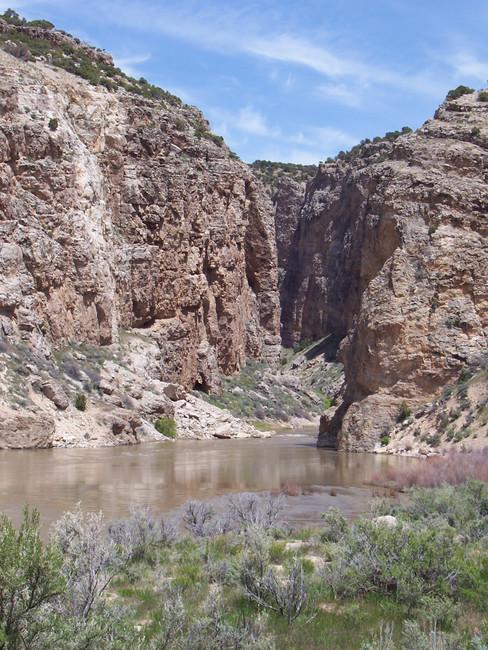 Route Description
This is a more rugged route than the others descibed, but it isn't too difficult. There is no trail. Due to the dome shape of the anicline, the first part of the route is the steepest and it gets more gentle the higher you climb. This is also the most spectacular route described on the page because it follows the rim of the spectacular Cross Mountain Gorge for much of the length.
From the picnic area/parking lot, head straight for the mountain. There is much scrambling at first and you must bypass some outcrops and cliffs. The first 400 feet of the climb is by far the steepest part of the route, but after that it becomes more gentle. There are some game trails in along the way, and the brush is never thick, so there isn't any bushwacking. Stay fairly close to the rim, but there are many drainges to cross along the way. The two largest ones can be crossed by heading a bit south and away from the rim. This is an up and down hike all the way to the summit of South Cross Mountain. Along the way, you must pass over several false summits. The views all along this route are very spectacular and you can spen much time taking photographs. The round trip distance to the south summit is about 5.5 miles, and isn't too rugged after the first 400 feet of scrambling.
Essential Gear
A good pair of boots is needed. Don't even think about not bringing a camera.