Overview
This is the simplest and easiest route to the top of UN 13,001.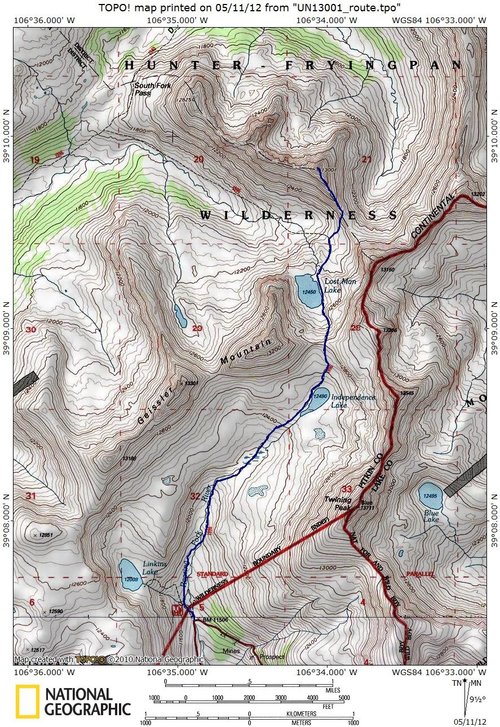 It consists of an alpine hike almost completely above timberline, and a class 2+ ridge climb to the summit.
Round Trip Mileage:
6.65 miles
Elevation gain
2,465 feet
Approach
This route is most easily approached by starting at the upper (east) trailhead of the Lost Man Trail. This approach does follow a path that requires you to hike up and over a small mountain pass, but overall it is the shortest and most direct way to reach the mountain. (Please refer to the "getting there" section on the main UN 13,001 page for directions to the trailhead) Hike up the trail past Independence Lake, and over Last Man Pass, descending to Lost Man lake.
UN 13,001 can also be approached by starting at the lower (west) trailhead for the Lost Man Trail and following the trail up the Lost Man Creek valley as it heads to the north, and then begins to curve to the east and southeast. This is a longer approach, and prevents you from having to gain "wasted", but negligible, elevation gain of going up and over Last Man Pass, but it also gives you the opportunity to enjoy a nice hike in a beautiful area.
Route Description
Make your way over to the saddle between UN 13,001 and Pt 13,150. Climb up into the saddle (Class 2+). From here, start up the southeast ridge. At two points along the ridge, rocky steps will bar easy access to the ridge crest. In these areas, head to the left (SW) and traverse off the ridge crest and on to class 2+ ground. The area just under the summit is one such place that is most easily traversed to the left. Just under the very summit your feet will break the 13,000 foot plane on this, the shortest of Colorado's strong and numerous contingent of 13ers.
Essential Gear
Be sure to bring the standard wilderness hiking essentials.
External Links
Add External Links text here.