Approach
From the Sawmill Flat campground, follow the trail up past the UCSB research station, continuing on toward the east ridge walk up route. Once to the pass, drop off the back side as if heading for the West Ridge. The correct descent gully is the one where you can see the entire face from the entrance into the gully.
The approach can take anything between 3 - 5 hours.
From Chugach Man: good approach beta at:
http://dreaminvertical.wordpress.com/2009/09/21/mount-conness-approach-beta/
Route Description
The route starts ~200 yds to the right of the west ridge or ~50 yards left of the Goodrich memorial plaque, in a dripping dihedral below black roof. This pitch is usually wet but is not that difficult to protect as Supertaco would make you believe.
Climb this P1, traverse right, and belay below the first 5.10 pitch.
P2 pitch goes up, then moves up and left (10c but protectable), finishing by following slightly flared cracks to a belay on the right.
P3 is a relatively cruiser.
P4 leads up a chimney, then a 10a offwidth. You can push #5 up the lower part of the OW. Then the OW widens into a squeeze chimney that is rated at 5.8 but feels about the same as the 10a OW. I placed a BigBro here but just so that I don't have to carry it. This section feels secure if you have OW skills. Belay at the top of the chimney. We used double ropes and on this pitch we hauled packs on one rope and Michal followed on the other rope.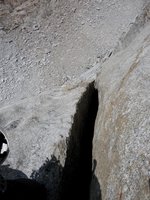 P5 traverses right and a nice 10a face move past an old bolt to a stance.
P6 has a 5.8 chimney which I founds just as difficult as the OW pitch. Do yourself a favor and haul your pack.
Follow the crack system above for several easier pitches to the summit area. Consult the published topo for further info.
The route is 9 pitches with 60 m ropes and took us 8.5 hours to climb. Lot of pictures from other parties show them topping out at sunset. This is a longish day if you climb CTC.
Essential Gear
Pro: small nuts (have not used them much, mainly carried for bailout anchors), doubles for small cams to #2. One each of #3,3.5, 4.5 and 5, and good judgment. This is an adult route.
In early season, a pair of instep crampons may be useful on the approach.
Miscellaneous Info
Good quality rock, nice exposure, a must-do route.