Approach
See the Getting There section on the main page for directions to the start of this route.
Route Description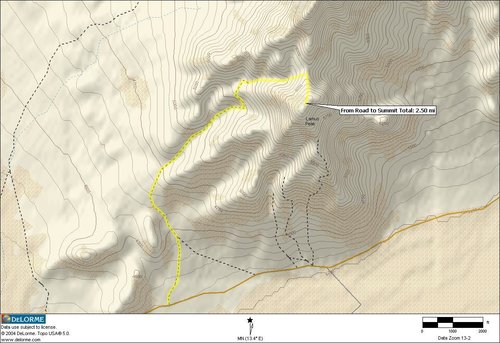 Round Trip Distance :
5 mi
Elevation Gain :
2000 ft
If you have a high clearance vehicle you will be able to shave off about 2.5 miles from the round trip and about 700 feet of elevation gain. There is no bushwhacking on this route.
Follow the 4WD trail north for just under a mile and it starts to head east, continue following the 4WD trail. The 4WD trail soon gets steeper in grade and enters a small canyon. Towards end of the 4WD trail you will see your
route up
. Where the 4WD trail ends another one continues to zigzag up the side of the mountain. You can choose to follow the 4WD trail or head directly towards the saddle seen in the picture. Heading towards the saddle you will traverse along a steep slope to reach the saddle. From this slope there are several abandoned mines on the adjacent slope to the north. At the saddle head south for 0.2 mile to reach the summit.
Essential Gear
Water is essential as there are no water sources in the range.