Overview
This nice linkup of crack pitches on Squamish's Apron area offers 7 fine pitches of climbing with a short approach, great protection, and an easy descent. Recommended.
First ascent by Robin Barley and Peter Shackleton in 1986.
Getting There
Park in the main parking lot for the Apron. Hike to the entrance of the lot then east along the road for about 50 feet. Cross the ditch and enter the forrest on the trail. Hike for a few minutes to a junction. Rock On is to the left, but go right here. Hike to the base of the route which is an obvious forrested double crack.
Route Description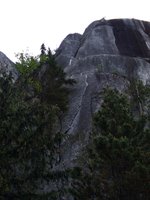 Pitch #1
- 5.7 - Climb straight up the cracks with trees until you reach a belay stance with a tree for the anchor. 170 feet
Pitch #2
- 5.8 - Climb the steeper corner with a fingercrack above and belay at the large ledge (Baseline Ledge). 100 feet
Pitch #3
- 5.9 - Traverse to the right on the ledge and set up a belay at the base of the first crack system you find. Climb the long, beautiful hand and fist crack all the way past the bulge to a good belay stance. 180 feet
Pitch #4
- 5.9 - Climb up and to the right traversing from one crack to the next as they peter out. Climb up through the bulge then belay at a good stance above. 100 feet
Pitch #5
- 5.9 - Climb up some slabs then up through the obvious short but steep handcrack, then belay on the ledge above. 70 feet
Scramble up some 4th class slabs towards the base of the flake in front of you. Belay in the gulley at the base of the flake system.
Pitch #6
- 5.10b - Crank up the perfect hand sized flake (5.9). At the top, clip the bolt then perform the crux friction traverse to the left. Now climb up the shallow fingercracks (5.9) to the ledge above. This pitch is called Karens Math in the guidebook. 100 feet
Pitch #7
- 5.9 - Climb directly up the nice corner system above with a great fingercrack for pro. Climb to the top then exit to the right and belay at the bolts or tree at the top of the Apron formation. This pitch is called Memorial Crack. 180 feet
Down
- Walk over to the left and find the rap slings. 2 60 meter or 4 30 meter raps down the steep wall next to Rock On will get you down into the gulley. Descend this back to your packs.
Essential Gear
1 set of cams to 4"
Doubles 2" to 4"
1 set of nuts
60 meter rope
External Links
Add External Links text here.
style="display:block"
data-ad-format="autorelaxed"
data-ad-client="ca-pub-6523272176520096"
data-ad-slot="7132222476">