Overview
Ben Lomond is the most southerly Munro in the whole of Scotland and offers excellent views of the other peaks in the Southern Highlands. From the short level topped summit plateau, on a clear day, it is possible to see as far as the Isle of Arran, The Paps of Jura and Ben More of Mull on the western coast of Scotland.
In the eighteenth century, having scaled Ben Lomond, John Stodd described it as 'a stupendous precipice of 2,000ft, exciting a degree of surprise arising almost in terror'. It was also stated that in 1813 'ladies very commonly go up, and sometimes take with them a piper and other apparatus for dancing.
A work colleague, once told me that on reaching the summit of Ben Lomond some years ago with his wife he was astonished to find himself witnessing a wedding ceremony taking place. Very brave to assume the weather would be sufficient and one hell of a depressing descent if you've been stood up at the trig point (ahem, I mean alter!).
I think what I am trying to point out is, the simplicity of this route. It really is a straight forward route in the right weather conditions. A wide and well trodden path from start to finish.
Getting There
From Glasgow take the A82 Loch Lomond road until reaching the Balloch roundabout (the one with the metal ducks). Turn right onto the A811 and continue along this road until reaching Drymen. From there take the A837 to Balmaha and continue onwards to reach Rowardennan (care should be taken on this road as it is very narrow and not in the best of conditions).
Route Description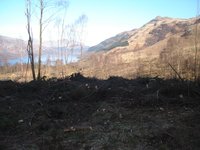 [img:282035:alignright:small:]
Start at the carp park just after the Rowardennan Hotel.
Awell trodden path leads east through the forest (the forest does not last long as recent de-forestation has taken place). This used to be a lovely walk through to the lower slopes of the southern ridge, however it has now lost a lot of it's great character. The path comes to a small road, cross this and continue upwards. A slippery rocky section adds a bit of variety before arriving at a small stream.
Dip downwards to the stream and cross this before making your way north-east, steeply for around 30 minutes until reaching Sron Aonaich. Once at Sron Aonaich the path levels and a clear view of Ben Lomond's shapely summit can be seen.
The path climbs very gradually for a good 1/2 mile until steeper ground approaches that zig-zags its way to the higher reaches of the peak above Coire a'Bhathaich. From here head north-west along the path until reaching the summit trig point.
Distance travelled
- 5.5 kilometers
Elevation gain
- 940 meters
Estimated ascent time
- 3 hours
Descent can be done either by way of ascent or by the
Ptarmigan ridge route.
Essential Gear
Summer conditions: Backpack, walking boots/trainers, hat, gloves, water, food, waterproofs(your in Scotland you can bet it is going to rain at some point), map, compass, first aid kit, penknife, spare socks, walking poles can be good to ease the jarring on the old knees and your camera.
Winter conditions: All of the above and ice axe, crampons, helmet and rope.