Overview
Striped Mountain sits astride the Sierra Crest separating Kings Canyon National Park and Inyo National Forest just south of Taboose Pass. It is so named for the distinctive white bands that cover the east, south, and west faces. Those seeking the summit are faced with a steep approach to Taboose Pass. Though the hike is long and strenuous, it is not technically difficult, with a good trail and easy class 1-2 cross country terrain the final two miles to the summit. From the summit there are excellent views north to Split Mountain and the Palisade Crest, east to the Owens Valley, and west into the Kings River Drainage.
Due to its inclusion on the Sierra Club's SPS Peaks List, Striped is sometimes climbed with neighboring
Goodale Mountain
one mile to the east (where the best views of Striped Mountain can be had) or the slightly higher
Cardinal Mountain
two miles north.
Getting There
Striped Mountain is usually accessed from the Taboose Pass Trailhead in Inyo National Forest. From this direction it can be climbed from the north or northeast (or from the east if coming over from Goodale Mountain). This involves easy off-trail class 1 or class 2 depending on your exact route. From the John Muir Trail direction it can also be climbed using the more technically challenging
West Ridge
.
Taboose Pass Trailhead
(37.0094° N, 118.3272° W)
Turn west off highway 395 onto Taboose Creek Road (12 miles south of Big Pine and 14 miles north of Independence). The road quickly turns to graded dirt. Continue following the main road, which turns right at intersections 1.7 miles and 3.7 miles from 395. The trailhead is at the end of the road 5.5 miles from 395 at 5425 ft. There are no facilities at the trailhead, but Taboose Creek is very close and available for water and rinsing.
The Hike
Trip statistics from Taboose Pass Trailhead:
8.9 miles one-way, 7800 feet total elevation gain with negligible gain on the return
The hike is very straightforward. First ascend 5900 feet in 6.7 miles to Taboose Pass. Luckily the trail remains close to Taboose Creek and there is no need slug a lot of water around. The trail crosses the creek after 3.4 miles and 2600 feet, and again at mile 4.6 and 3800 feet above the trailhead. Some parties turn south above the 3100 meter contour and follow this fork of the creek for a more direct cross country approach. Otherwise when you reach Taboose Pass head south over easy cross country terrain and pass a few lakes. You can start up just about anywhere you want in between Striped Mountain and Goodale Mountain. For a more solid ascent take the ridge east of Point 3933 and contour south to the summit. Descend either the same way or via the scree gully just south of this ridge.
Red Tape
Approaching from the east the entire trip is on Inyo NF land. No permits are required for day trips but overnight trips require one throughout the year. Permits can be picked up at the White Mountain Ranger Station in Bishop or the Mt. Whitney Ranger Station in Lone Pine. Quotas are in place May 1 through November 1. Check the
Inyo National Forest wilderness permit website
for the most current information and reservation availability. See the When to Climb section below for suggestions on picking up your permit.
No bear canisters are required, but proper food storage is important. In August 2008 I saw a large
black bear
near the waterfall at 9,200 feet.
Fires are prohibited above 10,400 feet.
Inyo National Forest Wilderness Permit Office
351 Pacu Lane, Suite 200
Bishop, CA 93514
Wilderness Information Line: (760) 873-2485
Permit Reservation Line: (760) 873-2483
When to Climb
EARLY!!! Most parties already know the seasons. For Striped Mountain, and other summits near Taboose pass, getting an early morning start is a bigger priority- especially if you are on a daytrip or plan to camp at the pass. The trailhead is only 5425 feet in elevation and can quickly reach 90-100° F. Starting close to sunrise is not a bad idea.
If you are backpacking getting your permit the day before or via the night box is necessary for an early start. If using the night box a reservation is needed ($5/person fee). Waiting until the day of your trip would require meeting at the ranger station after 8:00, some chit chat, and then driving to the trailhead. You may not be hiking until 10:00 AM. Also, the rangers will not leave your permit in a night box if you plan to camp in Kings Canyon NP, but if you plan to camp at Taboose Pass, or lower, this is not an issue.
Camping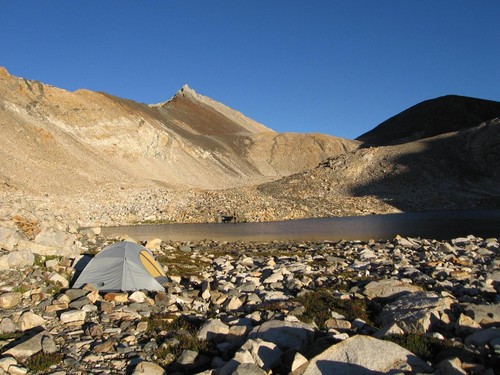 Roadside camping is possible at the Taboose Pass Trailhead, or at several pullouts along Taboose Creek Road.
Taboose Creek Campground
is a county run site for $10/night with water, vault toilets, tables, etc… It is located along Taboose Creek Road 1.5 miles from 395.
Goodale Creek Campground
is run by the BLM for $5/night and also nearby.
Backcountry camping is widely available. Possible sites include above the waterfall at approximately 10,000 ft on the Taboose Pass trail, at Taboose Pass (can be windy but there are tarns for shelter), or Lake 3480 north of Striped Mountain (very rocky but there is enough sandy area available for at least one comfortable tent- see picture at left).
Etymology
"That nearest the pass is strikingly barred across its steep craggy summit with light streaks. As this is an unusually marked case of this peculiarity and as it seems well occasionally to have a mountain whose name bears some relation to its visible character, I called it Striped Mountain." -
Bolton Coit Brown, Sierra Club Bulletin (Volume 1, 1896, no. 8, page 309.)