Overview
Suche Skaly
AKA "Susky", meaning Dry Rocks are also called
Czech Dolomites
, are a part of area called
Maloskalsko
. Maloskalko lies within the border of
Bohemian Paradise
.
Suche Skaly create a significant landscape dominant of the Male Skaly region. It is an asymmetrical forked rock ridge between towns of Mala Skala and Zelezny Brod, that is rising over the left bank of the river Jizera. Due to its typical look the rocks are also nicknamed "The Teacher's Organ".
Geologically these rock formations were created in younger tercier period thanks to the repeated tectonic movements of the so called Lusatian Fault. Suche Skaly appear cracked, stand in a single line, and form ragged rock towers and blocks. The area was pronounced national protected area in 1956.
The whole complex attracts rock climbers. The rocks here are more hard when compared with the surrounding sandstone and unlike the other sandstone rocks that stay wet after rain for a long time, the "Dry Rocks" dry very fast, this is also reason for their name.
Suche Skaly are popular with climbers - the rules of bohemian sandstone climbing apply here, which means no use of metal protection, only using slings, knots, and kinderkopfs. Also the use of chalk is prohibited. Some routes are protected with widely spaced bohemian sandstone rings (very thick metal rings - some skinny lightweight carabiners cannot clip through). This is not a hiking destination and the trails along the rocks are mostly used by climbers.
History of Climbing here
Historically, the rocks were explored initially by german climbers from Liberec. Ferdinand Siegmund with Matouschka brothers summited the highest points of the rocks in the summer of 1893. The following year 1894 Willi Kahl and his friends crossed the highest points of this rock formation. In 1922 the area was visited by german climbing climb from Dresden. Many of the ascents from that time were not recorded.

Czech climbers started to participate as well in 1930s, initially by observing Germans. Czech climbing clubs from Prague and several local towns: Turnov and Jicin. Czech climbing parties documented a number of first ascents.
There was a calmer time for Suche Skaly after WWII. Climbers had access to the real mountains: Tatras, and for rock climbing: Hruboskalsko, Adrzpach and Czech Switzerland. The area was again rediscovered in 1962. Another generation of climbers came and new first ascents were done. One of the most active climbers during time was Vasek Tuma, whose routes are nowadays classics.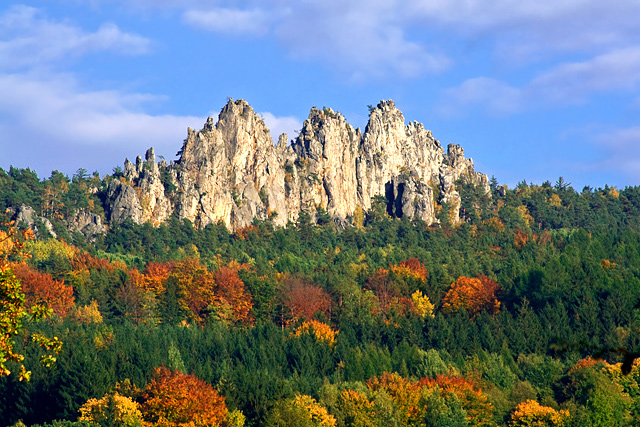 Getting There and Location
Suche Skaly are located within
Bohemian Paradise
and are about 90 km northeast from Prague, capital of Czech Republic.
Car (cars are easy to rent in the Czech Republic) - take the main highway E65 (GPS very useful since getting out of Prague can be complicated, even my iPhone GPS worked well). It is 98 km to the town of Mala Skala, and it takes roughly 1 hr (depending on traffic). This is the most comfortable way to get around, especially considering you are traveling with climbing gear.
Train - you can take train from Prague to Turnov, it is more expensive and slower when compared with taking a bus. (Turnov would be considered locally the big town, and is located only 10 km away from Mala Skala). Local bus system can get you from Turnov to Mala Skala, but expect some waiting in between.
Bus
- frequent buses run several times a day between Prague and Turnov, there is also a bus going directly to Mala Skala. It takes about 1 hr 20 min. Leave Prague at Cerny Most station.
Climbing at Suche Skaly
Suche Skaly have a different terrain and rock quality when compared with the rock towns of Bohemian Paradise: Prachovske Skaly and Hruboskalsko. Locals used the area for winter training and practicing for alpine climbs. The sandstone here is much harder and dries quickly. One wonders why they do not allow to use of metal protection here, but the whole area of Bohemian Paradise follows the same rules: only protection with knots, kinderkopfs, and placed large sandstone rings, which are very run out. The use of chalk is not allowed either (locals spit up on their hands and then wipe it into their pants - claiming it works the best with sweaty moist hands. I like that style and started to use it even now back in USA).
The height of most towers is from 30 to 50 meters. There are more than 430 routes described at Suche Skaly, and about 20 towers.
The Saxon grading system is used here.
YDS (USA)
Saxon grades
(also Bohemian sandstone)
UIAA (Union Internat.
des Assoc. Alpinisme)
3-4
I
I
5.1-5.2
II
II
5.3
III
III
5.4
IV
IV
5.5
V
IV+
5.6
VI
V
5.7
VI
V+
5.8
VIIa
VI-
5.9
VIIb
VI
5.10a
VIIc
VI+
5.10b
VIIc
VII-
5.10c
VIIIa
VII
5.10d
VIIIb
VII+
5.11a
VIIIc
VII+
5.11b
VIIIc
VIII-
5.11c
IXa
VIII-
5.11d
IXb
VIII
5.12a
IXc
VIII+
5.12b
IXc
VIII+
5.12c
Xa
IX-
5.12d
Xb
IX
Red Tape
There are no fees to visit or climb at Suche Skaly. Parking is free as well.
When to Climb
Summers are the easiest and most popular, but as mentioned above the area was known to serve as a training field for alpine climbing. Year round - with snow and icy conditions during the winter.
Camping/Accommodations/Dining