Overview
There are two separate narrow canyons that can been seen directly above the parking spot for the
Beauty Creek
Climbs - both are collectively referred to as "Sunwapta Falls" in the Joe Josephson "Waterfall Ice" guidebook. This route description describes the climb in the left hand drainage (the most northern drainage of the two).
The approach
From the parking lot walk directly across the creek to the old roadbed. Follow this old road north (left) crossing one drainage. At the next dry drainage (approximately 500 metres along the road) walk up the left side of this drainage until you reach the first pitch, and obvious free standing pillar.
Route Description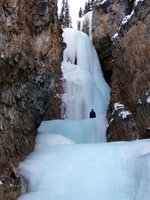 The first pitch (somehow rated grade 3 in the Josephson guidebook) is a free standing verticle pillar. The ice is often very tricky. It is in reality a solid grade 4 pitch and has provided a pretty good challenge to some pretty solid ice climbers - it's not for free.....
After you grovel up this pitch, there is about 300-400 metres of rolling ice with short steps (up to 10 metres). We have always soloed these steps, but depending on your comfort level and the ice quality, you may want to belay them.
The last pitch, it a very aesthetic 20 metre pitch of grade 3 ice. This pitch is usually climbed on the right hand side.
Essential Gear
One 60 metre rope is all that is required.
Getting Down
You can walk off the left side (climbers left) of the drainage. It's steep but fairly mellow. Keep your crampons on - you especially need them to get back into the drainage at the start of pitch one.