Overview
A stunning couloir leading straight to the summit of Mont Blanc du Tacul, running up beside the classic Gervasutti Pillar. The couloir was first climbed by Jean-Marc Boivin and Patrick Gabarrou in the spring of 1975.
Damilano's recent exhaustive update of the super-classic Neige Glace et Mixte contains all you'll need to know for a good time on this route. The rest will depend on conditions - check the OHM office in Chamonix.
Getting There
If planning to spend some time in this area, it might be worthwhile to basecamp (technically illegal) somewhere in the upper Valle Blanche. This seems to be most feasible in winter/spring when the law is not so often enforced. There are 2 common approaches as mentioned elsewhere: cable car from Courmayeur to the Torino hut, or telepherique from Chamonix to the Cosmiques hut. This is a popular route, so an early start is a good idea. It is also possible (and cheaper) to ski up the day before from Montenvers via the Mer de Glace and the upper Valle Blanche.
Route Description
There are 2 common starts. The original goes straight up the broken rock below the gully in 2 mixed pitches (M6). If this start is dripping water or looks otherwise uninviting, a very popular variation is to climb the first 2 pitches of the Gervasutti Pillar to an easy snow ramp that can be followed to the ice. The Gervasutti start offers some really nice granite climbing that may tempt you to abandon the ice gully for a climb of the Pillar!
The conditions in the gully itself may vary from fat ice to a thin veneer over gravel, depending on the year and season. The gully itself is about 400m of rambling ice at 70 degrees, interspersed with steeper sections up to vertical. Many sections may be thin or even mixed, depending on the year and season.
Typical Chamonix fixed rat's-nest-style belays abound along the steep walls of the gully. The first pitch and the last pitch are the steepest and most challenging, with the crux being the final ice step.
Belay on the left. It is common to rappel from here (60m ropes).
The original and complete ascent continues up the snow slopes above, aiming for the notch behind the Tour Rouge.
At the notch, as you would for the Gervasutti Pillar, go around the right side and follow easy mixed ground to snow and the summit.
Descent:
walk down the standard route or rappel the couloir from fixed stations (2006) to retrieve your skis. Hurry to catch the last train from Montenvers!!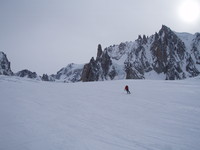 Essential Gear
helmet
ice gear
rock gear
2 x 60m ropes if planning to rappel
skis to shorten the approach/and especially the descent time substantially
lunch
money for cable cars and trains and wine etc. in the huts
Guidebooks
Damilano, Snow Ice and Mixed Vol.2, 2006
style="display:block"
data-ad-format="autorelaxed"
data-ad-client="ca-pub-6523272176520096"
data-ad-slot="7132222476">