Approach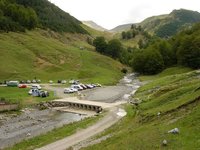 For the approach to Zuriza and the Tacheras valley, you will have to get there from Pamplona or Huesca, the biggest closer cities. Follow the road linking both of them (N-240) until the crossing of Venta Carrica. This is a crossing about (will check) sixty kilometers from Pamplona, where you can find a petrol station and the beginning of the road to Sigüés / Salvatierra de Esca / Roncal. Follow this road (NA-137) for thirty kilometers, until you get to Isaba. After Isaba keep going north (NA-1370) for three more kilometers and turn right on the crossing marked as (Zuriza /Ansó). This small road (NA-2000) will take you across the valley of Belabarce and to the camping area at Zuriza, under the Sierra de los Alanos. When you finish coming down from Belabarce (that will be some thirteen kilometers after Isaba), turn left for the camping area and (just before driving around it) follow the dirt road leading eastwards and signposted "Barranco de Tacheras". Leave the car at the point where this dirt road crosses the river.
Route Description
Start walking across the river. The dirt road goes on up towards the upper pastures, but there's no need to follow it all the way along. Instead, we shall take a clear path climbing left (east) of the road. This will take us up and across several turns of the winding dirt road, and in search of the obvious rocky tooth standing south of our position. That's the summit known as Achar de Alano, standing in the very middle of the north face of the Sierra de Alanos. Our climb shall pass by its left side, by a good (though sometimes steep) path. Scree terrain, maybe rocky in some short sections, but no real problems except for winter time. In winter time this section of the route can become quite tricky, it's a couloir placed in a north face and snow can be quite deep here. Moreover, if it gets to turn into ice you would be prone to find some real trouble.
However, everything comes to an end and you will finally find yourself in the upper side of the couloir. That's the pass known in local maps as Paso de Tacheras (or Achar de Alano). It will be the moment to turn east (left) and follow the easy hanging valley to its end. Peña Forca is the peak standing right (south) at its end. All the rest of the climb will be a hike along this hanging valley, to turn south right at its end in order to reach the top of Peña Forca without any significant difficulty.
Essential Gear
No special needs in summer/autumn season. Winter climbs can be tricky, though, specially when climbing the couloir to the east of the Achar de Alano. For such a case, rope and full winter equipment should be mandatory
Miscellaneous Info