Overview
It's the easier route to the summit and the most popular in winter or early spring (it's possible ski-country, snowshoes or even walking with snow). In winter is a beutiful climb but you must be careful after a recent snofall because the ravine has risk of avalanches.
Getting There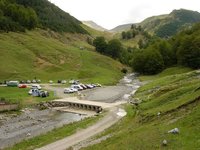 You will have to get there from Pamplona or Huesca, the biggest closer cities. Follow the road linking both of them (N-240) until the crossing of Venta Carrica. This is a crossing about (will check) sixty kilometers from Pamplona, where you can find a petrol station and the beginning of the road to Sigüés / Salvatierra de Esca / Roncal. Follow this road (NA-137) for thirty kilometers, until you get to Isaba. After Isaba keep going north (NA-1370) for three more kilometers and turn right on the crossing marked as (Zuriza /Ansó). This small road (NA-2000) will take you across the valley of Belabarce and to the camping area at Zuriza, under the Sierra de los Alanos. When you finish coming down from Belabarce (that will be some thirteen kilometers after Isaba), turn left for the Zuriza camping area but do not take the valley going north (in other words: do NOT follow the asphalt road). You must take the dirt road leading east without driving all around the camping area. Last time I was over there, there was a wooden signpost indicating "Tacheras". Follow that dirt road to reach (in about three km) a wide explanade by the river, with ample space to park.
Though the dirt road crosses the river by a small bridge and starts winding uphill, IT IS FORBIDDEN TO DRIVE ANY FURTHER.
Nearest spanish railway stations: Pamplona / Huesca
Nearest spanish airports: Pamplona / Zaragoza
Route Description
We begin in Tacheras following the paint of G.R.-11 (red and white) in left side of the track. The path goes in left side of ravine to reach a small hill with a hut. We follow to left across the G.R. exiting to a big plain under the col of Petraficha. The summit is on right side and we walk in the ramp to reach the upper part. This point has ice in winter and it need the use of crampons and ice-axe. In Spring probably this part don't has snow (the snow is present in some parts of ravine but it's a walking). In the upper part of the hill we walk to the summit without approach to left side (be careful with cornises with snow because the fall is dangerous).
Essential Gear
Crampons and ice axe in winter and early spring. It's a very good idea the use of ski in winter or snowshoes in early Spring.
External Links
Add External Links text here.