Overview
This is an easy if somewhat long, all-trail outing to a neat little semi-arid peak affording fine, open views. The route passes through numerous lifezones, starting in piñon and juniper scrubland mixed with cholla and prickly pear, passing through stately Ponderosa Pine forest, and then eventually reaching sub-alpine Douglas Fir woods. The summit is mostly bald, open to stunning views of the Sangre de Cristos across the Wet Mountain Valley.
Motorized vehicles are permitted on this trail along with horses, hikers and mountainbikes.
You will encounter plenty of PUDS – Pointless Ups & Downs, the worst of which is a deep drop into a drainage about 1.5 mile from the summit – but these keep things from getting too monotonous.
Roundtrip Distance:
13 miles
Elevation Gain:
3,700 feet
YDS Class:
1
Getting There
From Cañon City:
• From US 50, take CO 115 (9th Street) south 1 ½ mile to Elm Ave. (See cemetery.)
• Turn right onto Elm Ave.
• Follow Elm Ave. 1/3 mile to Oak Creek Grade Road.
• Turn left on Oak Creek Grade Road.
The
Tanner Trailhead
is about 4 miles south of Cañon City on CR 143. This trailhead is accessible to most motor vehicles via a graded dirt road. 4x4 is
not
required.
Route Description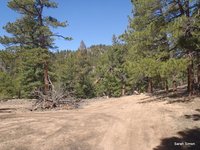 • From the parking lot, strike out through the trail gates southwest through the dust and desert scrub.
• After about ½ mile, cross the Forest Service boundary.
• Cruise for a couple miles through the desert, gaining elevation. This section of trail is unshaded and would be brutally hot in the summer.
• Roughly three miles into the journey, you begin to encounter trees and shade.
• When you descend steeply into a deep, shaded drainage, the summit is only about 1.5 mile away.
• Tug yourself back out of the shaded valley to climb the remaining distance to the summit.
• At a trail junction you'll have gained the southeast ridge of Tanner Peak and the summit is a mere ½ mile away.
• Ascend the wide, eroded track directly to the top. Nearing the finish, the trail gets a bit steep and loose before culminating at a huge summit cairn.
• Enjoy the views then descend the way you came.
Essential Gear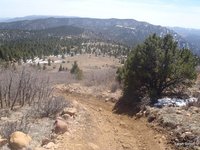 • Map & compass
• Comfortable hiking boots or shoes
• Snowshoes or skis after a heavy snowfall
• Water and snacks
• A camera to save memories of the high country views
• First aid kit
• Other standard backcountry essentials