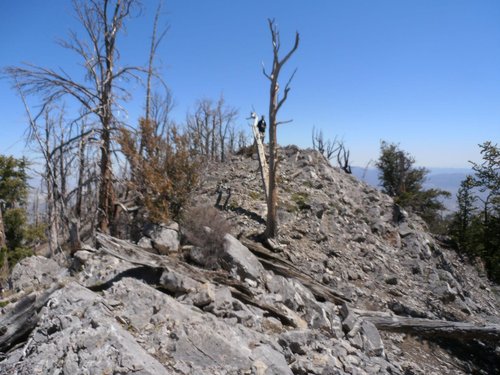 Overview
Telegraph Hill is one of Nevada's mountains that has more than 2000 feet of prominence. With 2974' of prominence,
it ranks #68 on the list
. Despite its proximity to US highway 93, it only receives an average of one group of visitors in a year.
Driving through the area that leads to the "trailhead" that I will describe below is like taking a trip into the history of the early west. Nevada was one gold or silver strike after another. Rich ores would be discovered and boom towns would spring up, lasting in most cases just a few years before the ores were removed and then everyone would move away and on to the next "boom". Mines and "prospects" are everywhere and you'll note a few as you drive in. It makes a peak like this more fun and interesting if you can spend a little time understanding the history of the area. The boomtown of interest in Telegraph Hills area is
Cherry Creek
.
Cherry Creek is located 55 miles north of Ely just off Hwy 93 at the end of S. R. 489. Named for the wild choke-cherry bushes that grow nearby. It is a pioneer city of the Pony Express and the Overland Telegraph days. Cherry Creek is about 5 miles north of Egan Canyon which the Pony Express route passed through on its way from Schellbourne to Fort Ruby near the Ruby Marshes in the north western corner of White Pine County, Nevada.
The Nevada Northern Railway tracks passed Cherry Creek about 4 miles east of the town. These tracks connected the copper mines to the Southern Pacific Railway lines for the approximately 150 mile journey to ship their ore to Cobre.
Silver discoveries in October 1872 created a boom for Cherry Creek in 1873 to 1875 and again in 1880 to 1883. A post office was established in 1873 and the town had a Wells Fargo station.
"In the early 1860s, gold and silver were discovered nearby. The town was built in 1873, starting a cycle of boom and bust. It may have had a population of up to 6000 in the late 1870s, many of whom left when the original mines played out in the mid-1880s. The discovery of additional deposits in the early 1900s and in the 1930s briefly revived the economy. Today there is an estimated population of just 20 residents and, of course, a working saloon. Many historic structures, including a museum, an early one-room schoolhouse, and the Cherry Creek Barrel Saloon, still stand among more modern buildings. As of July 2010 the Barrel Saloon closed."
Getting There
From either Ely, Wells or Wendover, drive via US 93 to the turn off for Cherry Creek, then 8 more miles to Cherry Creek. Just as you enter the old townsite, the pavement ends and you look for a road heading south out of town and will find your self on a graded dirt road that was in excellent shape. 3 more miles will find you at the mouth of Egan canyon which provides a "pass" through the mountain range. Once through the canyon, head south on good quality dirt road to a signed turnoff for Telegraph Canyon. It is not quite 5 miles to this turnoff. Take the left which heads south on a road that deteriorates somewhat but is still in reasonable shape. Do not drive this road if it is wet or you are experiencing rain as it will become a muddy mess under wet conditions. Take this road another 6 miles and you will come to a fork at a corral. A good camping spot is to be found here. Take the left which now will head uphill for a rougher mile. Low clearance vehicles might be best served to park at the corral area and walk the road up the last mile to the "trailhead". At an elevation of 7950, a saddle is reached and has room to car camp.
Note: Andy Martin indicates in his 2015 peakbagger trip report that he utilized Log Canyon and avoided going via Cherry Creek.
Red Tape
This is BLM land and no red tape or restrictions were encountered on our visit. Respect the land and pack out any trash and practice the "leave no trace" ethics that the BLM expects of us when we use the land. You might encounter cattle or sheep but we found none during our May visit.
There is a BLM office in Wells and one in Ely.
Camping
There are no organized campgrounds and car camping is possible in many spots. The best two spots to car camp are the corral area and the "trailhead" itself. The nearest motels are in Wells, Wendover or Ely.
Make certain you gas up in Wendover, Wells or Ely. There is a gas station in McGill but I am not sure I'd depend on it always being there. There are no servies in the Telegraph Hill area and you will need to carry water, food, and other essential items. Let someone know where you are heading. You could also combine a visit to Ray BM while in the area and I will develop a page for Ray BM in the near future.
Route
Leaving the "trailhead" at 7950', head directly up the hill utilizing an old jeep track that has fallen into disuse. Stay on this track as long as you can and it will turn into a use trail that will get you further up the mountain. The route is obvious at all times and what i would consider pretty straightforward. See my map for the route for additional enlightenment. The summit itself is a rocky area that contains a small cairn and some nice views to the north, east and south. The remnants of a burnt forest also are to be found near the summit. Another candidate for the high spot is to be found a bit back on the ridge and is worth a visit. Near it is a "claim" that you can spot thanks to the white pvc tubing that is used.
Roundtrip to where we parked was about 4 1/2 miles and entailed about 2200 feet of elevation gain. Nothing was beyond class 2 and that was found on the summit ridge area..
Weather - Cherry Creek
Click for weather forecast
Click for weather forecast
Summit Register
I was really surprised to find that the register had only six visitors signed in before Greg, Kadee and I hit the summit. We did find a glass register in a small cairn at the summit (see middle pic below) and it contained only 6 names in the previous 9 years. There were three visitors in 2003, and three in 2010. Greg, Kadee and I were the next three so a total of 9 people in 9 years.
Victor Zhou found his way to the top in late 2013
As of Feb 2014, this is what I have for summit visitors.
2003 - John Vitz, Barbara Sheets, and Donna O (6-19-03)
2010 - Rob Greer (6-24-10) Don & Betsy Palmer (6-29-10)
2012 - Myself, Kadee Smith and Greg Jagielski (5-19-12)
2013 - Victor Zhou (11-9-13)
2014 - Bob Packard, Richard Carey, Adam Helman (5-13-14)
2014 - Dennis Poulin (10-7-14 - also made GPS track, available on peakbagger.com)
2015 - Andy Martin and Mark Nichols (6-8-15)
2015 - Bob Sumner (6-22-15)
2015 - Ken Jones (Oct)
Cherry Creek - Ghost town
You will actually drive through part of Cherry Creek as you make your way to Telegraph Hill. Here's a few links to its interesting history:
Link one
Link two
Link Three
Link four
(u tube video)
Link five
(map of ghosts towns)
It'll add to your visit if you take the time to check out each of the links above.
To whet your appetite, here is an excerpt from "
Cherry Creek, the town that time forgot"
"The Great Basin of Nevada is full of old sleepy Ghost towns that time seemingly forgot. Similarly, the same is true in regards to Cherry Creek. A few residents still linger on at Cherry Creek while the aforementioned towns have turned to dust. The "Creek" as locals call it is merely a shadow of it's former self. Cherry Creek is now a sleepy little hamlet of approximately 24 or so hearty souls who have chosen the solitude and silence of the central SteptoeValley as a place to live. You really have to love isolation if you live in the Creek as it is 60 miles to Wendover to the north along US93 or 4o plus miles to the south to Ely along the same route. The Great Basin is filled with wide open lonely, deserted valleys where if there is no wind, you likely wont hear any sound whatsoever. The Creek wasn't always quiet though. If you visit one of the 3 large cemeteries there you will realize that the dead out number the living, almost exponentially here. Many of the persons interred here, like John Griffin who was killed in a saloon brawl, and others who were mangled in mining accidents, met untimely deaths out here in the Great Basin. There are so many wild and interesting stories waiting to be re-told and if you look hard enough you will find them in the history of the Creek."