Overview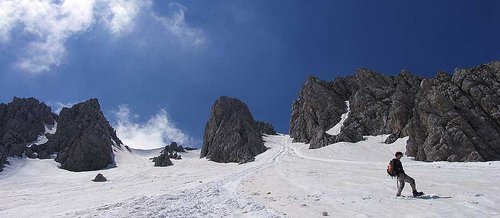 Terminillo's north-east side offers several routes for winter-mountaineering. There are itineraries for all skills: from the hard mixed route, to the easy climb on snow.
In this page I report the easiest routes: these couloirs are good for less experienced mountaineers who want to practice this sort of climbs, because of their easiness and shortness.
The slopes are usually praticable from december to april: NE exposition (usually) preserves good conditions of snow.
Approach
The start is from Sebastiani Hut: you can usually get there by car, following the road from Campoforogna. In winters with much snow (es. 2005/2006) the road is closed some Km before the hut: add a 40-minutes walk.
From Sebastiani Hut follow the path towards Sella di Leonessa and Sella delle Scangive (N): walk 40 minutes from the hut, and you'll have the early couloirs on your left.
Routes Description
A few words for every route:
- Nr. 1 and Nr. 2 are easy (F, 30°/35°) and short, and they end about 50/100 meters on the left (W) of the summit.
- Nr. 3, Canalone Centrale, is simple (F, 35°/40°) and beautiful, and it's the most crowded, especially for the descent.
- Nr. 4 is a bit more difficult of Centrale (F+, 40°/46°), and it joins the higher part of it after passing by a little saddle.
- Nr. 5,
Orsacchiotta
(The Teddy Bear), is harder than nr. 4 (PD, 40°/52°): it goes straight to the north ridge, which it reaches about 30/50 m on the right (N) of the summit: it's very beautiful and there are many rocks.
- Nr. 6, Canale Tortuoso (Tortuous Couloir), is about as hard as nr. 5 (PD-, 40°/50°) and it starts about 100 m before Sella delle Scangive.
- About Chiaretti – Pietrostefani you can find excellent descriptions at this
link
Essential Gear
Ice-axe, crampons, helmet; rope depending on conditions (ice), but it isn't usually needed.
A short movie
The last meters of the Orsacchiotta Couloir, 23th of december 2007
Literature, maps, links
- Guides
"A piedi nel Lazio vol. 1"
, S. Ardito, contains a description of the group, but it doesn't contain report of alpinistic routes
- Cai-Tci Guide
"Appennino Centrale"
, C. Landi Vittorj
-
Maps :
"Monti Reatini", 1:25.000, edited by Cai-Rieti
- Snow conditions and avalanche danger:
Bollettino Meteonivologico Appennino Centrale
Meteo conditions and forecast for M. Terminillo
- Webcam Live
Terminillo north-east side view from Sebastiani hut (1820m)
Zoom on Terminillo north east side