Overview
The Humbug Spires are a grouping of over fifty granite spire formations that sit just a couple miles South and East of the hook in the
continental divide
, which makes its Westerly shift from the Boulder Mountains to the Anaconda Range just north the little town of Divide..
The Humbug Spires Wilderness Study Area is an 11,175 acre roadless area that is managed by the BLM as defacto wilderness, and as such no motorized, or mechanized use is allowed. This restriction rules out mountain bikes for the approach and power drills for route development, but adds greatly to the pristine nature of the area. Leave no trace ethics should be observed when visiting.
This area offers superb granite climbing, stunning vistas of Big Sky Country, and a truly alpine feel to all endeavors. While being relatively remote, this is a moderately popular climbing and backpacking area, with a growing reputation for having a unique quality unto its own.
The highest point of the study area is Mount Humbug, at 8265ft, 2519m.
There are over 10 spires that are 300-600 ft. tall, the largest is The Wedge at just over 600 ft. on its southern side. The Wedge sits at @7,000 ft. above sea level.
History
The Humbug Spires were one of the first actively developed climbing areas in the state of Montana. Development in this area was facilitated by the unrestricted road acces to within a 15 minute walk of the main grouping of tall spires. Starting in the 60`s, the young and bold "dirty sox" gang consisting in part of Brad Hutcheson, Clare Pogreba, Ray Martin and David Bassler developed routes on spires known as The Nose, Arch Rock, The Crown and Baldy. The beta on most of these routes has been lost due to the "guide books, and their authors suck" attitude that was dominant in Montana during that era.
Many other tremendous climbers have sent routes on these spires, including but not limited to Jim and Jerry Kanzler, Dwight Bishop, Donnie and Penny Black, Terry Kennedy, Bill Antonioli, Pat Callis, Ron and Gerald Brunkhorst, and most recently Kurt Krueger.
The climbing was developed in a very traditional style, with most necessary bolts drilled on lead, and set only to protect moves with no available gear.
There are still some of these old 1/4 inch bolts on routes that should be viewed as only marginal protection, [due to their age and size] and backed up with gear as soon as possible. There are very few "sport" routes per se, as almost all developed routes rely on gear placements.
Most routes have remained true to the traditional style as multi pitch endeavours that reach to, or link up with other routes that attian the summit. Any new route development should keep these traditions and the areas rich climbing history in mind.
Flora and Fauna
The relatively high elevation gives this area a very alpine feel, though the the ecosystems are mostly lower sub alpine. Ponderosa pine, Douglas fir, lodge pole, and aspen, mix to make an almost sparse forest, that is easily navigated, and seldom thick except in the creek bottoms. The sandy, and acidic soil resultant of the decomposed granite does not support many bushes, though there are some bunch grasses, arrow leaf balsom root, lupine, and larkspur that make up the bulk of the ground cover plants. Along the creeks there is some willow and mountain maple.
Moose and mule deer are plentiful in this area, along with a few elk, [they tend to like thicker forests]. Black bear, wolf, and cougar are the main predators in the region along with fewer coyotes and fox. Ground squirells, porcupines, gophers, and many small rodents are plentiful, hawks and falcons are common sights along with occasional Golden Eagles. Many species of small song birds are at least part time residents.
Geology
The bugaboo spires are part of the southern intrusion of the Boulder Batholith, which extends from Helena, south and slightly west to Dillon. .
The complex geology of this unique batholith is little understood, but it is generaly agreed that deep magmatic forces coupled with thin skinned contractions resulted in plutonic rock being forced to, and exposed on the surface. The fact that this occured on the Eastern flank of the Rocky Mountains adds to the geologic questions that have yet to be fully researched. The formation, elevation, and contraction occured in the late Cretaceous [70-80Ma]age. The granite varies from North to South along the length of the batholith, with the Northern rock having a more dioritic nature and sits in heaped shapes resulting in horizontal cracks, while the rock of the Humbug Spires region is a finely grained, almost white granite, [quartz monzonite], that tends to have vertical cracks, and is monolithic in shape.
Getting There
The humbug spires are accessed via I-15, at the Moose creek exit #99. About 24 miles South of the I-90 interchange, and 39 miles North of Dillon. Follow the improved and graded Moose creek Road for 3 miles to the trialhead,
Follow the new trail along Moose creek for 1.5 miles where the trail leaves the creek, stay on the well beaten path, and begin a gradual ascent to a new series of switchbacks that gain the upper ridge. Many guide books mention a junction at the 1.5 mile mark, but with the construction of the new trail this information is obsolete. Continue along passing an old set of water entrapment dams, and on to an old homestead cabin. I use the word cabin loosely as there is no longer any roof structure, and many of the logs of the walls have fallen. Cross a spring of fresh water [filter or treat to use], and begin the last steeper ascent to the base of The Wedge, about 4 miles total distance.
Camping
There are a couple of tent sites at the main trailhead by the creek, and there are several undeveloped spots along the trail that would make for nice camping. These sites have no fire rings, and should remain pristine. If you build a fire, destroy the ring, and restore the soil to prevent scarring. The camping spots close to The Wedge are more heavily used, and camping should be concentrated in existing sites.
There is also developed camping and RV sites at the
Divide Bridge Campground
5 miles N. of the Moose Creek Exit. There are no reservations available at this campground.
The Climbing
The routes on The Wedge and the other tall spires usually follow vertical crack systems for multiple pitches. The adjoining faces often have many features including scoops, pockets, ledges, and chicken heads. Flakes, roofs, and chockstones are also encountered. The rock tends to be very solid, although there are some areas of crumbly sand. All the routes in this area require gear, and only the newer friction climbs will be bolted, and then only when no natural, or artificial protection is available.
A good Humbug Spires rack would include large cams to a minimum of 4.5 inches, while some routes may require even larger cams, big bros, or large hexes. A good selection of small and mid sized cams are also needed, and in particular, yellow and orange Metolious tcu`s, yellow, green and red Aliens, and smaller #.5-#2.5 Camalots will all slot nicely. Stoppers, and tri-cams are also useful. Bring lots of over the shoulder slingage, and extendable draws which will help with rope drag, and nylon runners for belay anchors. A helmet should always be worn as there are loose rocks on the upper sections. A 50 meter rope will reach some of the belay stations, but many require a 60 meter rope.
Most belay stations on The Wedge have been upgraded to 5/16 in. stainless steel bolts, some with chains, and some with hangers. The main rappel station from the summit has also been upgraded to 5/16 in. stainless steel bolts, with home-made angle iron hangers fitted with 5/16 chain and threaded links.
Descent off the summit of The Wedge requires a 4th class traverse to the Eastern most edge where there is a three bolt rap anchor.
It is possible to rap on a single 50 meter rope to a ledge where a simple 5.2 downclimb will lead to the descent gulley. If you want to mule up an extra rope, or you climb on long twins, you can avoid the downclimb section and rap to terra firma.
I do not have beta on rappel or belay stations for any of the other tall spires. I suspect many of them have old rappel stations, but they are likely old 1/4 inch bolts, so inspect them carefully before trusting your life to them.
Recreating in the Humbug Spires is open year round, however prime climbing season will likely be June, July, and August. The shoulder seasons of March, April, May, and September, October, and November will have nice days on which to climb, but can also have more severe weather. Winter in this area can be very harsh, with low temps often reaching into the -30 to -40 deg f. range, so if you choose to prove your mettle, be prepared.
There is something here for every climber, for example on The Wedge, there are routes that range from 5.9+ to 5.12b on the North Face, classic 5.8 crack climbing and 5.10b,c friction pitches on the West Face with a few 5.11 thin cracks thrown in for good measure. There are also many top-rope-able 5.5 - 5.7 routes on the shorter spires that dot the area around The Wedge camping sites. You will need to be prepared to build your own top rope anchors though.
Climbing here takes on an alpine mountaineering quality, and is probably a grade more commiting than you might expect, due to the remoteness and height of climbs, assistance or rescue could be many hours in arriving. Be prepared to self rescue, and be self supporting until help can arrive. Most routes are considered grade II.
Weather
Since The Humbug Spires sit basicaly on the Eastern edge of the continental divide, the main influence will be from continental weather patterns that move down from Canada. Weather can and does approach from the West also, and is often forced directly over the Spires by the much higher Anaconda Range to the S.W. and the Flint Creek Range to the W.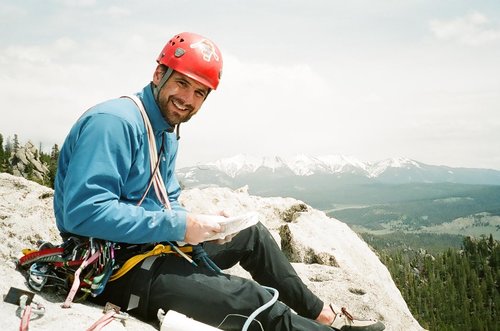 It is advisable to get an early start to avoid the common thunder and lightning storms that build in the afternoons. Constantly asses oncoming weather to determine whether to advance or retreat. Storms can move in very quickly, and retreating from the third pitch can be very dicey, but too, being on top of a 600 ft. spire in a lightning storm is not a good thing either. Since the spires are high, it is fairly easy to monitor developing weather heading your way.
Important Links

Current Weather and 7 day Forecast
Montana Division of BLM Web Page and Contact Numbers
BLM Law Enforcement Web Site and Contact Numbers
BLM Humbug Spires Web Page
Silver Bow County Sheriff Web Page and Contact Numbers
The Sheriffs office will coordinate any search and rescue necessary from the Humbug Spires area. [406]497-1120
Guide Books and Maps
Butte`s Climbing Guide, by Dwight Bishop 3rd edition
First Ascent Press
.
The Rock Climbers Guide to Montana, edited by Randall Green et al. Falcon Press Publishing, Helena, MT
United States Geologic Survey 7 1/2 minute quadrangle maps cover the area and are available locally. You will need the Tucker Creek, Mount Humbug, Melrose, and Wickiup quads for full coverage.
You can get the National Forest Service map
HERE
.
Interesting Tidbits
In 1969, "dirty socks gang" members Jerry Kanzler, Ray Martin, Clare Pogreba, Mark Levitan and James Anderson died in a massive avalanche on the then unclimbed N. Face of Mt. Cleveland in Glacier National Park. This tragedy was chronicled in the excelent book
The White Death
by McKay Jenkins, pub. New York: Random House, 2000.
.
The original USGS survey erringly positioned the continental divide in the Bitterroot Mountains resulting in a very large Montana, and a very slim Northern Idaho.
The moose creek road [Forest Road 8594]above the trailhead is closed from December 2 until May 15th.
May Your Time in the Humbug Spires Be Enlightening