Overview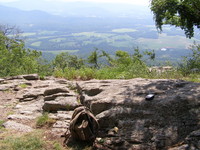 The Priest is located in The Priest Wilderness south-west of Charlottesville, VA. The Appalachian Trail runs through the wilderness and it is by way of the AT that one can reach the 4,063 ft summit of The Priest. The trailhead is located in a valley by the Tye River at about 1,000 ft in elevation, possibly making this the highest elevation gain of any hike in Virginia at around 3,100 feet.
The 4 mile trail leading to the summit is well maintained with only a few short rocky stretches. Other than that the trail is smooth with a constant gradual climb and no steep sections. Plenty of switchbacks and a couple stream crossings make this hike up the mountain an interesting one. Two switchbacks occur right at the stream crossings, so one will want to pay attention. If hiking in springtime, these crossings look as if they could be formidable, so be careful as there are no bridges or crossing aids.
The summit is covered with trees and not many places for good views, but it is a nice, pleasant area to rest which I greatly enjoyed. However, there are several nice spots along the way and close to the summit that provide excellent views. Round trip time is about 5 hours. The smooth trail made for one of the easiest down hill return trips on my knees also.
Getting There
From I-64 at Waynesboro, VA, take exit 99 to the Blue Ridge Parkway. Go south to milepost 27 and get off at the exit for Rt 56. Go east on Rt 56 for 11 miles. Here you'll come to The Priest and Three Ridges Wilderness parking area for the Appalachian Trail. This is where you need to be. There is enough room in the parking lot for about 10 cars, but others parked along the road and that didn't seem to be a problem.
There is also access to The Priest from the southern route by way of the Appalachian Trail.
Red Tape
No red tape. Normal Appalachian Trail rules apply. There is no trail register, but there is an informative map at the trailhead.
Camping
Camping is allowed along the Appalachian Trail. There is also The Priest Shelter, another .8 miles from the summit. Near, and on, the summit there were several camp sites as well.
External Links
US Forest Service