Overview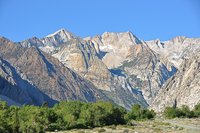 Not to be confused with "The Slab" in The Buttermilks are, The Slabs is a rock formation located in the "Pratt's Crack Gully" of Pine Creek Canyon in the Eastern Sierras.
I have written in detail about the rock formations in this steep and narrow gully in the past. The entire area contains rock formations of quality and steepness similar to those of Yosemite Valley. Most of the formations in this area are of difficulty levels that excludes a climber of moderate ability. There is, however, one exception and that is, The Slabs, the subject of this page.


As indicated by its name, The Slabs are less than vertical and somewhat slabby. There are a number of moderate climbs on the left hand side, but as you progress further to the right the climbs begin to get more difficult. The Slabs is flanked on both sides by more renowned formations such as Rites Buttress to its right, and Mustache Wall to its left. Unfortunately, most of the attention seems to go those two formations, especially to Mustache Wall with all of its sport routes. But, for those looking for more traditional routes without committing to long extended routes on The Rites Buttress, they need to visit The Slabs. Most routes are only two pitches long and of traditional nature. There is, however, one true sport route on this formation: Inyo Face, rated 11c.
Note: Descending the routes of the left hand and middle of this formation are somewhat risky.
Be prepared to down climb 4th class sections to rappel anchors and above of all, use your own judgement for a safe descent.














Routes of The Slabs


The history of climbing on The Slabs dates back to the early part of the 1970s when Helmut Keine, an exchange student who was a talented climber, established Keine Route, 10a." I have no doubt doing first ascents, in the 5.10 difficulty level, in the old climbing shoes with stiff lug-soles of the early 1970s was quite an experience. In the following decades, however, other talented American climbers such as Allan Bartlett and Tony Puppo made their mark by establishing a number of climbs over the entire face. Two of such climbs are Ill Wind, 5.9 and Newlywed Game, 10b.
We all owe these early pioneers a debt of gratitude for their vision and tenacious pursuit of new lines on virgin rock formations.




Besides Dihedrals, The Slabs is the only formation in The Pratt's Crack area that is south facing and in the sun for most of the day. This would be a great place to climb soon after a freaky summer or fall season storm. Even though this area is at an elevation of over seven thousand feet, climbing on the south facing slabs in the summer season may not be what most people would be looking forward to. But, when the weather begins to cool down for the overnight frost to cover everything, The Slabs will warm up nicely for a day of climbing.
















| | |
| --- | --- |
| | The Slabs, Pine Creek Canyon |
| 1 | Ill Wind, 5.9, two pitches, Standard Rack, pro, up to 3 inches |
| 2 | Instant Insanity, 10c, Standard Rack |
| 3 | Newlywed Game, 10b, Two pitches, standard rack |
| 4 | Topless Dancer, 10a A0, Two pitches, standard rack |
| 5 | Keine Route, 10a, two pitches, Standard rack, gear up to 4 inches |
| 6 | Inyo Face, 10d, bolts |
| 7 | Bwana Dik, 10d, three pitches, Standard Rack, pro up to 3 inches |
Camping


There is one primitive campground with a few campsites across from the slot canyon. However, there are many more developed campgrounds in the vicinity of Bishop to the south and in the Rock Creek Canyon further north of here.

The following links should help finding a good campsite:

Horton Creek Campground

Rock Creek Canyon

Inyo National Forest


Bishop Creek and vicinity camping


Getting there
From the town of Bishop California drive about ten miles north on highway 395 to its intersection with Pine Creek Road & Rovana. Take this exit and continue west on Pine Creek Road past the town of Rovana for about 7.6 miles. You will see many rock formations to your right and one in particular is very narrow and steep. Drive a bit further till you come to a dirt road. Turn right on this road, then take another sharp turn to the right. This short and rough dirt road will quickly take you to the limbers' parking area. The trail into the canyon is obvious and shouldn't take more than ten minutes.

The very first formation you come to inside this slot canyon, also known as " Pratt's Crack Gully" is Mustach Wall and its on your left. Walk just past Mustache Wall and scramble up the 4th class rocks to the base of the climbs to the right of the huge dihedral.

The views you are treated to on your drive up Pine Creek Road are breathtaking. If you are there during sring time and still lots of snow on the mountains, take a few minutes for a few photos. You will be happy to have them in twenty years.


External Links
Add External Links text here.