Overview
Thrill Hammer
is a mostly-bolted route to the right of
Rat Race
in the Tourist Trap area. The guidebook (see below) rates it two stars.
Count on being gawked at by people on the trail, though not quite as much :)
Getting There
Same as for Rat Race. Hike up the trail from the Bear Gulch parking lot until you see a climber access sign for the Tourist Trap. Scramble down, and then back up.
The sign says that party size in this area is limited to 12 to minimize impact.
Route Description
The route has six bolts, which is a bit conservative, but they are there when you need them. In my opinion, the crux moves are near the ground, and a bit sustained, before the second bolt. I was able to clip the second bolt, and then hung for a bit when I led it.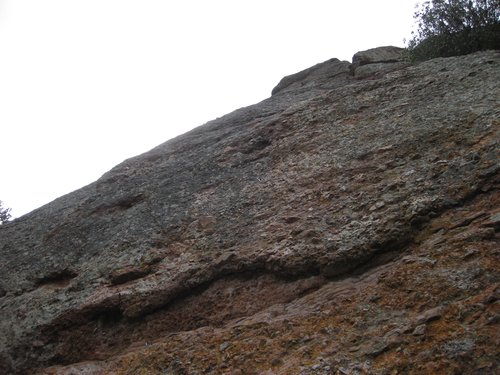 Near the top you can either traverse right on some 5.6-ish terrain to a two-bolt anchor, or place some small cams in a crack and then go up and over a block to the left of the anchor for an optional and fun 5.7 finish.
Route height is 80'. The anchor has rap rings & chains. Rappel with a single rope.
The Tourist Trap area has an upper access point, from which you can set up topropes or walk off. I've never done this, but it's another option.
Essential Gear
Six quickdraws. Optionally some small cams in the 0.5 - 0.7" range and slings (to reduce rope drag) if you want to do the 5.7 finish over the "summit block".
Guidebooks
This route and others in the Tourist Trap area are listed in the following guidebooks -
A Climber's Guide to Pinnacles National Monument
, Brad Young, 2007.
California Road Trip - Northern California
, Tom Slater, 2009.
External Links
Route page
from rockclimbing.com
Notes
from the Friends of Pinnacles website
Warning:
This was the site of a fatal accident in July 2000 (scroll down to
the notes here
).