Overview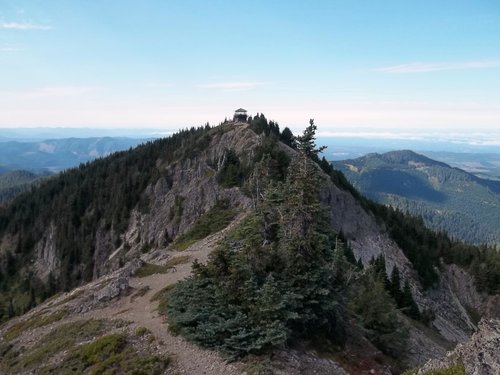 The Tolmie Peak Trail is a popular trail that starts from Mowich Lake and lead to the lookout tower to the west of the true summit of Tolmie. With about 1300 feet of elevation gain and just over 6 miles the Tolmie Peak is ideal for families looking for a good moderate workout and stellar views of the famous and beautiful Mount Rainier.
The trail stops by the beautiful Eunice Lake which leads to a great foreground fro shots of Tolmie Peak on one side and Mount Rainier on the other sideThe views from the Tolmie Trail from the lookout are breathtaking as well. The lookout often is very crowded with families and tourist on the weekends.
Luckily folks though the
lookout is not the true summit!!
For the true summit there is an exposed bootpath that leads to the summit. The footing in spots here is iffy so take the bootpath here carefully bto the summit. One misstep could have dire result on this narrow ridge. Once you get to the true summit you will be greeted with even better views of the surrounding area.
The Tolmie Peak Trail also serves as a great launching point for nearby Howard Peak and other peaks in the area. It is possible to link the Tolmie Peak Trail to the likes of Howard, Florence, Virginia, Berry and Martin.
Getting There
Mowich Road Park Entrance:
From Puyallup:
1. Drive 13 miles east on state Route 410 to Buckley
2. Turn right (south) onto state Route 165 and proceed through Carbonado
3. Just beyond the Carbon River Gorge bridge, bear right onto Mowich Lake Road
4. Follow the road about 17 miles to its end (CAUTION: Watch for logging trucks - There is lots of private property adjacent to the park that is being logged.)
5. The trailhead is on the left (north) side of the road, near Mowich Lake
Route Description
From Mowich Lake:
Tolmie Peak Summit: 5939'
Mowich Lake Elevation: 4929'
Total Elevation gain: 1345'
Total Elevation lost: 335'
3.2 miles each way/6.4 miles round trip
Hiking season: July through September (Dictated by Mowich Road access)
The trail leads 1.25 miles through the forest to a trail junction, first downhill, then steeply uphill 1.0 mile to Eunice Lake. The last mile from Eunice Lake to Tolmie Peak Lookout is steep but well worth the effort.
Once at the Lookout, you are not actually on the high point of Tolmie Peak. Ascend the ridge due East to the first hump to reach the true summit.
Essential Gear
Just your ten essentials!
1. A map of the area
2. A compass
3. A flashlight with extra batteries/bulb
4. Extra food
5. Extra clothing, including rain gear
6. Sunglasses and sunscreen
7. A pocketknife
8. Matches in a waterproof container
9. A candle or other fire starter
10. A first aid kit
External Links
Information on the Backcountry Hiking and Camping at Mount Rainier National Park
Backcountry Permit Required for Camping while in Mount Rainier National Park. For more information please
click here
Here is a good summer trip report on Howard Peak