Overview
The
Tre Cornini
is a group of three small towers (-> name), which is located a little above the timberline on a ridge high above
Valtellina / Veltlin
. Rather not known for its own beauty, the group's exposed location ensures commanding views all around. At 2021m the three towers look down for almost 1800m onto the city of
Morbegno
, which is cradled in a bend of
Valtellina Valley
with the
Alpi Orobie
all around. Even more striking is the westward view across
Lago di Como
and the
Alpi Lepontine
to the 4000ers of the
Valais and Bernese Alps
.
Geographically the
Tre Cornini
belong to the
Val Massino Alps / Bergeller Alpen
though they lack the impressive heights of their immediate neighbours. Still the three towers are made up from the same kind of grey granite so abundant in the group. Neither of the towers exceeds 40m when measured from the surrounding ridge. Yet the steepness of the slopes increases exposure significantly.
The route to
Tre Cornini
is straightforward but nevertheless scales some 1000m of elevation. It starts at the hamlet
Poira di Dentro
on the north slopes of
Valtellina / Veltlin
and heads for
Alpe Pre Soccio
, a summer grazing pasture. From there a narrow mountain path follows a creek towards the massive cirque of
Cima de Malvedello
, from where it heads to the
Tre Cornini
in a wide sweeping bend. In case you feel like climbing another 600m you can more or less easily reach the summit of
Croce Gam
(2585m) by hiking the ridge upwards from
Tre Cornini
. Only the topmost part of this variation is exposed (very) and difficult (a little).
If they weren't so remote, the
Tre Cornini
would be a good sport climbing destination. They are made up from the finest granite and could offer routes of any diffculty level. However, most probably only the highest of the three towers is regularly climbed. When climbed from the north - from the upper part of the
Croce Gam south ridge
, on which the
Tre Cornini
are located - reaching the top is little more than a scramble across granite blocks. The crux is a steep slab, which must be traversed and the rating would be something like IV-.
Panoramic View
Getting There
The trailhead for
Tre Cornini
is at the hamlet
Poira
to the north of
Veltlin / Valtellina
, close to the valley mouth at
Lago di Como
.
From Milano take SS36 passing Monza and Lecco along the eastern shore of Lago di Como

After Curcio switch to SS38 into Valtellina / Veltlin

At the big roundabout at the end of the four laned section of SS38 follow the signs to Morbegno.

After a second roundabout look for SP4 bis turning off left (north) towards Traona

After crossing the Adda River turn right (east) in Traona onto SP4

Turn left (north) again directly onto SP10 towards Mello

Drive through Consiglio and Mello until you reach Cilio

Turn left onto a narrow mountain road which will take you throgh Roncaglia to Poira.
Red Tape
There's no red tape to speak of. As usual in the Alps you will cross fences with gates as horses and donkeys are grazing on the meadows of the mountains. Be sure to close any of the gates after hiking through.
Weather Conditions
Accommodation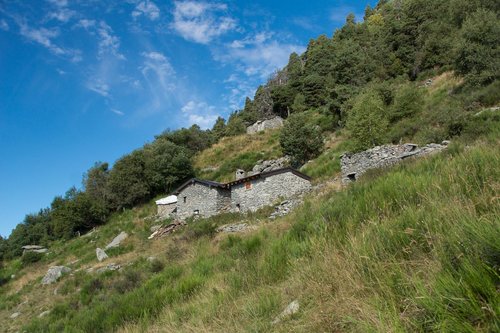 Maps & Books
Maps
Digital Maps

Regular Maps


Lecco, Val Brembana
Kompass Map WK105
Kompass Verlag
1:500000
ISBN: 978-3-85026-463-1
Books
Veltlin
Reto Solèr, Maria Schabel
Rother Verlag
ISBN: 978-3-7633-4373-7

Comer See
Eugen E. Hüsler
Rother Verlag
ISBN: 978-3-7633-4040-8