Overview
This is the main page for the Treasure Mountain Group route. This route contains the combination four different peaks in the Elk Range. These peaks include
Mount Baldy
,
Cinnamon Mountain B, Treasury Mountain, Treasure Mountain A, and Crystal Peak D
. While attempting this route, you will be completing 3 ranked Colorado 13ers and 2 ranked Colorado 13ers. This route is used by many people during the summer. Most of the time you will start from Paradise Basin and do Baldy and maybe Cinnamon, but this route starts at the parking areas for Emerald Lake and you complete your mountains and make a loop back to Emerald Lake. The views are going to be views that you will never forget.
Getting There
From
Buena Vista
, make a left onto US 285. From there make a right onto US 50 up and over Monarch Pass and continue onto Gunnison. From Gunnison go North onto US 135 to Crested Butte. From here, go into Gothic and follow the winding road until you get to the one lake along the way. You will see a road to the left which leads to the front of the lake. You can park here. A passenger car would do fine on the Gothic road until you make the left turn into Paradise Basin. From here it is considered to be 4WD road but I'd recommend driving until you get to a spot where you question if you will be safe going over it. The road has many pull offs so you could park anywhere on the road.
Route Description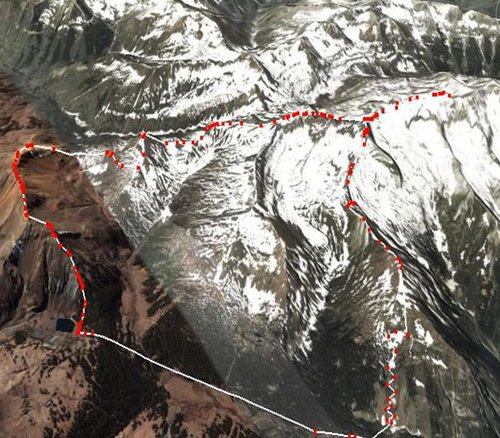 This route has many parts so that means I am going to give it to you in segments. Each mountain will be on a different route page. This is so I can post the routes on each separate mountain page. Here is the breakdown including the links and descriptions.
To your left is a visual of what the route does.
1st mountain:
Mount Baldy: East Ridge
- Start from Emerald lake and hike out of tree line and connect to the East Ridge to the summit. Descend down the West Ridge.
2nd mountain:
Cinnamon Mountain B: NE Ridge
- You are now on top of Paradise Divide (saddle). Find the clear trail that goes up the NE Ridge to summit. Then descend going towards the saddle between Cinnamon Mountain B and Treasury Mountain.
3rd mountain:
Treasury Mountain: SE Ridge
- Once at the saddle, scramble up to the summit. 2 false summits exist. Descend by traversing over to Treasure Mountain A.
4th mountain:
Treasure Mountain: West Ridge
(includes Unnamed 13,407 (unranked))
- At the saddle, scramble up to Unnamed 13,407's summit or go around it. You will reach another saddle. From here it is another, but more difficult scramble to the summit. Descend by going back to the saddle between Treasury and 13407.
5th mountain:
Crystal Peak D: North Traverse
- From here you are on your way back. While coming back you will summit Crystal Peak D. At the saddle explained above, get onto the South ridge towards the peak. You will see that the peak is connected to a different ridge you are on. So at the low-point on the ridge, go down and connect to Crystal Peak D's ridge and summit. Descend North down the trees and onto the road. Hike East up the road for a short period of time until you get back to Emerald Lake.
Length of entire combination/loop: 14.9 miles
Essential Gear
Rock helmet may be needed. An ice Axe would be usefull if you do this in the spring or early summer due to the snowfields.
External Info/Links
You will be entering the Southern and Northern Sections of the wilderness if you choose to do this. Here is the contact info if you have any questions.
White River National Forest
Old Federal Building, Box 948
Glenwood Springs, CO 81602
303-945-2521
Gunnison Ranger District
216N. Colorado
Gunnison, CO 81230
970-641-0471
Gunnison Ranger District
White River Ranger District