Overview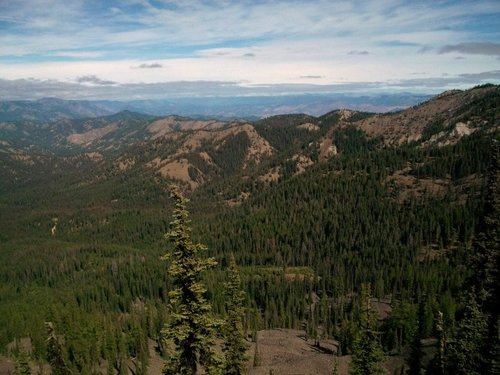 Tronsen Head, an unofficially named peak, is well known destination among snowshoers, leaf peepers and cross country skiers. Ranked #75 in the Back Court 100 list this peak is very important for peakbaggers in the region. Among it's many qualities are the fact that the mountain features jaw-dropping views of Blewett Pass and west towards the Teanaway Region and the Enchantments. The peak is often a great refuge for when the western Cascades are being battered by storms and even the Teanaway have suspect weather, this region is usually the area that sees the last and the least of the precipation from ocean storms.
The easily way to Tronsen Head is from the Haney Meadows campground via Forest Road 9712. From there you can take the Table Mountain trail to a side sutoff that leads directly to the summit. This is closed in winter and a high clearance vehicle is recommended at other times. I approached via the Tronsen Meadows Trail down closer to Blewett Pass. This trail is more work (1300 feet elevation gain instead of 400 feet of elevation gain) but the trail passes by a number of colonies of larches which makes it a fall delight ot hike on.
Getting There
VIA HANEY MEADOWS: Take Route 97 to Blewett Pass. Literally feet from the rise up Blewett Pass head on to Forest 9716 and head south for about 2 miles to forest road 35 on your left hand side. This will be past the scree and the cliffs of Diamond Head on your left hand side. Take 35 all the way to the intersection with 9712. Make a left onto 9712 and take it to the Table Mountain Trailhead right next to the Haney Meadows Campground.
VIA THE WAY I WENT VIA TRONSEN MEADOWS: Take 97 to just east of Blewett Pass. Turn on Tronsen Meadows Road (dirt road; 4 wheel drive strongly preferred) and take Tronsen Meadows road roughly two miles to the obvious trailhead sign.
Red Tape
In summer there is no red tape. However in winter if you park in the main Blewett Pass parking lot you will have to pay SNO PARK Fees.
Camping
The Haney Meadows Campground is located less than a half mile from the summit of Tronsen Head.
Blewett Pass Links
Link to live camera of Blewett Pass
Information on winter trail in Blewett Pass. Though much of the information is for snowmobilers, there is plenty of information for hikers.
Snow information at Blewett Pass from the Snotel located at Blewett Pass. This will give you an idea about how much snow is at the pass and what to expect.