Overview
Turtle Rock is a rock formation in Joshua Tree National Park, California.
This massive formation is located across from the parking lot from the entrance into Real Hidden Valley area in Joshua Tree National Park. The northwest face of Turtle Rock is several hundred feet long and works like a massive wall protecting a pleasant picnic area with trees, benches, and even bathrooms. On any weekend during the climbing season, you may see several climbing classes in progress under the trees and around many boulders strewn on the base of the northwest face. You will also run into families picnicking and children scrambling on smaller low angle rocks.
Turtle Rock, being the most prominent rock formation in this area, attracts many tour buses and tourists. The rock practically covers the entire southern parameter of the parking lot giving the area a sense of being enclosed and protected. You may find yourself being invited to special events held in the parking lot such as religious ceremonies or star gazing parties. Amateur and professional astronomers bring their telescopes and invite the public to observe deep sky objects such as galaxies and globular clusters.
Routes of the east face
Eventhough the northwest face of Turtle Rock is the longest of the three major sides, the majority of the routes are located on the east face. That is not to say that the northwest face did not present enough of a potential for route development; it did. But, once the routes on the east face were established, climbers moved on to other virgin teritories. In any event, the history of technical climbing on Turtle Rock finds its roots dating back to the late sixties to mid seventies during which most of the less difficult lines were climbed.  
The south face of Turtle Rock, offering a greater challenge, saw its own share of route development. The advent of sport climbing in the 1980s and the 1990s brought higher difficulty levels in the 5.12 to even 5.14 range to the south face. My hope is to dedicate a separate page to the south face and the surrounding formations in the future.
The east face of Turtle Rock, being well featured with cracks and good holds, can best be described as the classroom for ABCs of lead climbing in Joshua Tree. The majority of the climbs are easy to moderate fifth class. Climbing classes often hang their ropes on the first pitch of the easier routes and keep them over the weekend to teach belaying and top roping techniques on climbs that are no harder than 5.5. There are also beginner lead routes such as "Easy Day," rated 5.4, leading to a two bolt anchor at the end of the first pitch. This is a good climb to practice placing protection.  
| | |
| --- | --- |
| | Climbs of the east face of Turtle Rock |
| A | Bisk, 5.4, standard Rack |
| A1 | Variation to Bisk, 5.7, standard Rack |
| B | Ripples, 5.7, standard Rack |
| C | Luminous Breast, 5.8, runout, standard Rack |
| D | Rehab, 5.9, standard Rack |
| E | Wandering Tortoise, 5.3, standard Rack |
| F | Blistering, 5.5, standard rack |
| G | Easy Day, 5.4, standard Rack |
| H | Turtle Soup, 5.3, standard rack |
| I | Cornered, 5.4 , standard rack |
Camping and noise Considerations
There are nine campgrounds in Joshua Tree National Park. At the entrance to the park you are always asked if you would care to have a map and a brochure. The brochure will have plenty of information on the campgrounds and the map will guide you to many of the pleasant hikes throughout the park. You may even get the latest information as to availability of campsites. During the peak season (mid winter through spring) finding a campsite may become a major task. It is highly recommended to use the following link to get more information in advance.
Joshua Tree Camping
Noise considerations,
When you are camping with friends and sitting around the fire, it is easy to forget that there are other people trying to sleep in the nearby campsites. It is important to put yourself in their shoes. Keep the noise and music to a minimum and certainly not too much past 10 p.m. Your neighbors will smile at you in the morning instead of giving you dirty looks.
Environmental Concerns,
Please tread lightly. The Access Fund has gone to great lengths posting trail marker for approaches to many of the more popular crags. Do you best to stay on these trails, and where you are forced to use a different path, choose the ones that rain can mend in time. Drainages make for good trails where there are no established trails.
Avoid stepping on native and fragile plants, and do not feed the coyotes. Coyotes are very much used to people and often hang around picnic areas and camp grounds in hopes of getting a hand out. It's better to let them live their natural life.
Fees and Food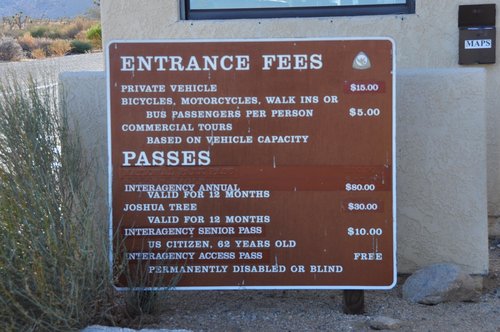 My wife and I have had Thai food in many different restaurants and cities. This Thai place beats them all. In November when the number of visitors to Joshua Tree reaches its peak, this restaurant puts on a Thai Buffet, all you can eat for 16.00$/person. But, you must get there early, or be prepared to wait by the door for a table.
How to get there
From the western entrance to Joshua Tree National Park drive on Park Boulevard, formerly known as Quail Springs Road, for about nine miles to a major rock formation called "Intersection Rock." Intersection Rock is a major landmark on the north side of Park Boulevard with ample parking for visitors and climbers alike. This rock, true to its name, sit at the cross roads to Hidden Valley Campground, Barker Dam Road and the road to Day use and picnic area. Turn right onto the road leading to day use area with a large parking lot and bathrooms.
Turtle Rock lies in the southern end of the parking lot.