Overview

Ultime Foglie d'Autunno (Last Leaves of Fall)
On the South face of Torre d'Emmele, a limestone's mighty peak lying in Sengio Alto Subgroup, between Sella dell'Émmele and Forcella del Dente Rotto, we can climb this recent route realized by the 14 8000m peaks sixth summiteer Sergio Martini with his pal in the year 2007. Ultime Foglie d'Autunno (Last Leaves of Fall) is one of the latest routes and it's developing on 200 meters of very good and steep grey "dolomia", running between Via della Loffa on the right hand side and Daniele-Scorzato Ridge on the left.
Getting There
ROAD ACCESS
There are two different possibilities:
From NE side: from A22 Brennero Motoway exit Rovereto, cross the town following the signposts "Vallarsa" and "Vicenza" and taking the SS46 rising inside the Vallarsa; a glance to San Colombano hermitage can't be missed!
After San Colombano, the road is crossing numberless small villages like Valmorbia, Anghebeni, Foxi, Raoxi and Parrocchia and reaching at least the pass named Passo Pian delle Fugazze mt. 1162 (km. 26 from Rovereto). From the pass, situated on the border between Trento and Vicenza provinces, follow for about 50 meters the road towards Vicenza and sudden leave it, turning to right to take the King's Road (Strada del Re, an old road suitable for vehicles only for some kilometers) leading to Malga Cornetto. Park the car in a pull-out on the left side of the road.
From SW side: from A4 "Serenissima" Motorway exit Vicenza West and follow the SS46 crossing the town of Schio and rising along Val Leogra towards Valli del Pasubio, Ponte Verde and Pian delle Fugazze. 50 meters before getting to the pass turn to left following the King's Road which leads to Malga Cornetto. Park the car in a pull-out on the left side of the road.
Ultime Foglie d'Autunno (Last Leaves of Fall)
Ultime Foglie d'Autunno (Last Leaves of Fall) report - UIAA Scale
Summit altitude: m. 1793
TD inf., UIAA IV, V, V+, VI+ (crux)
Climbing length: 200 m.
Equipment: pegs along the pitches, ribbons, equipped belays
Exposure: S
First ascent: Sergio Martini – Giorgio Nicolodi 2007, december 1th
Starting point: Malga Cornetto (Trentino side)
A steep and magnificent recent route on first class "dolomia" leading to a superb summit.
From Malga Cornetto follow the King's road by walking, reaching a good trail named "Émmele Path" on the right-hand side of the road. Follow it (marks to Monte Cornetto and Sella dell'Émmele) and when you're getting to the 10th hairpin, leave it and go towards left, following a poor trail (red marks), skirting the bottom of Torre d'Émmele on easy rocks and grassy slopes, then rising towards right inside the Boale del Dente Rotto, lying between Torre d'Émmele on the right and Dente Rotto on the left. After the starting point of Via della Loffa reach some huge blocks just nearby the starting point of the route. Cairn and a well visible peg some meters over the starting area.

L1 - On the left side of a little cave climb a steep little wall (peg), then follow some slab (ribbon into a hole). Belay on a good stance below a magnificent and wide grey wall. IV+, III, 32 m.
L2 - Climb the wall little by little steeper, and a bit overhanging in the ending meters, on awesome compact rock (some pegs), reaching a comfortable stance below another grey wall. IV, V+, VI+, 33 m.
L3 – From the stance climb the impending wall, less compact but always steep on superb rock, leading to a step. Common belay with Via della Loffa. V, 45 m.
L4 – Go slants to left towards a black and steep wall; climb it straight, then easier rocks are leading to a stance on a dwarf pine nearby a little notch. V+, 30 m.
L5 – Cross the notch and climb a grey wall (peg and ribbons) reaching a stance on another dwarf pine. Scramble on shortly to the summit cairn.
Descent: from the summit cairn scramble down easy rocks and grassy slope heading towards North (red marks) reaching the Arroccamento trail. Turn to right and follow it to Sella dell'Emmele, where the Emmele path is starting and coming down to the King's road and to Malga Cornetto (1 hour from the top).
Essential Gear
Rope 2x50 m, helmet, quickdraws
Red Tape
No particulary restrictions in climbing and hiking. Torre d'Emmele is located in "Piccole Dolomiti Natural Park".
When to climb
Best season goes from May to the end of October
View of Torre d'Emmele
Where to stay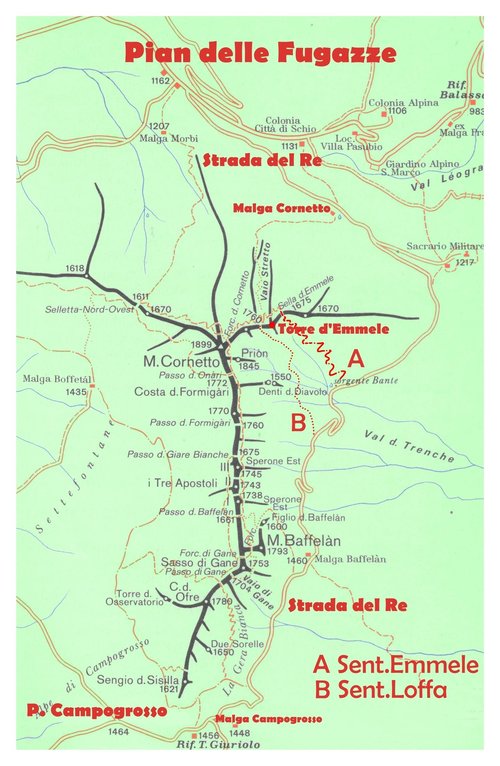 On CAMPOGROSSO:
- Rifugio Toni Giuriolo m. 1456 - Passo Campogrosso m. 1456, Recoaro (Vicenza) - Phone +39044575030
- Rifugio Alla Guardia - loc. La Guardia di Campogrosso, Recoaro (Vicenza) Phone +39044575257
On PIAN DELLE FUGAZZE:
- Alberghi Pian delle Fugazze m. 1163 s.l.m. - Passo Pian delle Fugazze, Vallarsa (Trento)
- Rifugio Balasso m. 983 - Valli del Pasubio (Vicenza)
Guidebooks and maps
Guidebooks
"Piccole Dolomiti e dintorni - Arrampicate scelte" by Guido Casarotto - An updated and complete selection of the best climbing routes in Little Dolomites, Ed. Cierre 2015
"Piccole Dolomiti – Pasubio" by Gianni Pieropan - Collana Guide dei Monti d'Italia, CAI TCI
"Arrampicate nelle Piccole Dolomiti" by Guido Casarotto
Maps
Pasubio-Carega 1:25.000