Overview
Sandwiched between the North and South Forks of the Lost Creek, UN 11,060 is a pleasant little Tarryall surprise. The Trails Illustrated Map suggests a wooded summit, but don't you believe it. From the rocky summit outcrop the Lost Park winds its way northwestward. Expansive southern views take in the Tarryall Mountains the Puma Hills. The rocky crown of Bison Peak juts out to the south-southeast. Just below the summit is a level little viewing platform, perfect for enjoying a break and lunch.
Despite the 4x4 road winding to within a mile of the summit, count on having the top of this un-named little mountain to yourself. While not contained with the wilderness boundary, this peak is surrounded on three sides by the Lost Creek Wilderness, providing a buffer of road-less, untracked wild country for as far as the eye can see.
Colorado Rank:
1,751
st
highest peak in Colorado
Prominence:
579 feet
Mountain Range:
Kenosha Mountains
USGS Quad:
Topaz Mountain
Trails Illustrated Map:
#105 (Tarryall Mts., Kenosha Pass)
Rank and Prominence Reference:
Lists of John
Getting There
UN 11,060 is located in eastern Park County about six miles west of the Douglas County line and approximately 5 miles northeast as the crow flies from the Tarryall Reservoir. The Lost Creek Wilderness bars ready access from the south, east and northeast. The mountain is accessible from Lost Park Road (FS 56), which can be reached from US Hwy 285 south of Kenosha Pass or by taking Park County 77 to Park County 39 (which turns into FS 30 at the National Forest boundary).
Red Tape
There exists little or no red tape in this part of the National Forest. North Tarryall Peak sits outside of the protection of the Lost Creek Wilderness.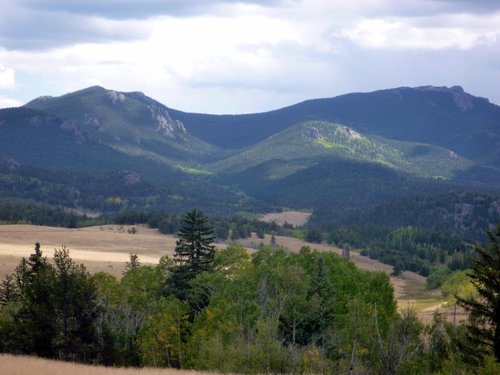 Camping & Lodging
Plenty of camping can be found along Park County 77 and spur roads off of it. In the case of rustic 4x4 campsites, remember to bring plenty of water, bury human waste and pack out what you packed in.
Along Rt. 39 & 56
Several campsites off FS 39 provide views of Mt. Silverheels, Buffalo Peaks, Horseshoe Mountain, Bald Mountain and Mount Guyot and other 13ers and 12ers that will bring tears to your eyes. Competition for these sites, however, is intense in the summer, with large armadas of ATVs and RVs staking weekend claims to favorite haunts.
South end of Hwy 77
The south end of Hwy 77 (Tarryall Road), near Hwy 24, provides several established U.S. Forest Service camping areas. South Park Ranger District Lake George Area Campgrounds include: Riverside, Spillway, Happy Meadows, Round Mountain, Spruce Grove, and Twin Eagles. Please contact the district office at (719) 836-2031 if you have additional questions about the campgrounds in the South Park Ranger District.
Cabins, Lodges and Hotels
There are a few cabins/lodges along the Tarryall Creek catering especially to the fly fishing visitor. For example:
Ute River Ranch
. There are a few hotels in Fairplay.
Weather & Seasons
Due to seasonal closures of Forest Service Roads, UN 11,060 is accessible between early summer and late Fall, depending on snow pack. The access roads in this area melt out earlier and get snowed-in later than many higher-altitude, heavier-snowpack climbing areas in Colorado. Nonetheless, during snow season this mountain is accessible only to the intrepid winter hiker looking for a multi-day outing or to those willing to opt for a snow-machine assisted approach.