Getting There
Directions to Ptarmigan Lake Trailhead:
From the intersection of Cottonwood Pass Road (FR 306) and Route 24 (the traffic light in the town of Buena Vista), drive the cottonwood Pass Rd 14.6 miles west to the well-signed Ptarmigan Lake Trailhead (Cottonwood Pass Rd is a paved road that is closed during snow season).
Route Description
All distances are per my GPS.
| | | |
| --- | --- | --- |
| Place | Elevation | Distance |
| Trailhead | 10660 ft | zero miles |
| Ptarmigan Lake | 12132ft | 3.0 miles |
| Saddle | 12250 ft | 0.3 miles |
| Gladstone | 13209 ft | 2.6 miles |
| Total | | 5.9 miles |
From the trailhead, cross the footbridge over the Middle Cottonwood Creek and follow the trail in a pine forest. The trail at first heads east but then turns south and enters the Ptarmigan Creek drainage. After about 1.3 miles, the trail crosses a Jeep Road.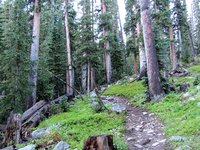 At an elevation of 11700 ft, the trail enters a basin that houses many lakes. The forest becomes sparse and Jones Mountain appears to the southwest. The steep scree slopes of Point 12962 ft and Point 13038 ft are visible to the east/southeast. Follow the trail by the many lakes up the basin to reach Ptarmigan Lake.
The trail continues on the east side of Ptarmigan Lake to reach a 12250 ft Saddle. Leave the trail and hike up the slopes to the east to reach Point 12962 ft. Points 13038 ft and Gladstone Ridge Peak will come to view.
You can bypass Point 13038 ft on its south side. This will require hiking over a talus filed that is not too bad. Once you go beyond Point 13038 ft, you can hike up easy slopes to reach the summit of Gladstone Ridge Peak.
Essential Gear
In summer, good hiking boots.